Water Damage Restoration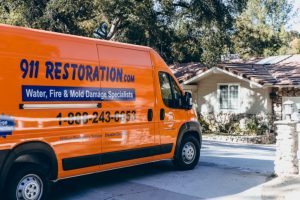 Flooding from storms and plumbing emergencies can cause destruction in Tulsa, Owasso, Broken Arrow,  and any other surrounding cities. Water can start causing immediate damage to your business or home. The longer excess moisture remains in your property, the more damage it can do to your floors, walls, and possessions. Call us at 918-203-4819 and allow us to provide a free visual inspection.

Fortunately, you can get same-day water damage restoration in Tulsa to limit the damage. The professionals at 911 Restoration of Tulsa are on call around the clock and ready to begin flood cleanup in Tulsa. Crews can reach properties around Tulsa within 45 minutes of an emergency call to handle:
Water Extraction after a Pipe Bursts

Flood Cleanup and Carpet Drying

Crawlspace Cleanup and Sewage Cleanup

Commercial and Residential Dehumidification

Repairs for Structural Damage Caused by Water
You don't have to deal with the aftereffects of a pipe burst in Tulsa on your own. IICRC certified technicians can get to work right away. 911 Restoration of Tulsa can even provide you with a mold inspection after you experience a flood or plumbing emergency.
Mold thrives in damp environments. A mold inspection in Tulsa can tell you if you will need mold removal services after heavy rains or a sewage cleanup Bloomington in Spill. Mold remediation and mold decontamination may even be necessary if you are dealing with a toxic mold.
Let us develop a plan for water damage restoration and mold removal in Tulsa. Our crews are licensed, bonded, and insured to take care of business and house flooding, water damage emergencies, and water damage repairs. Our phone number is 918-203-4819 and we are always on stand-by waiting to help.
Why Contact a Full-Service Water Damage Restoration Company?
Water damage may have many causes. Some property owners experience flooding after heavy rains, due to a sewage backup, or because of a pipe burst in Tulsa, Owasso, Broken Arrow, or any other surrounding cities. You may be dealing with carpet water damage or a ceiling leak.
Regardless of the type of water damage you experience, the restoration process can move quickly if you get professional help. 911 Restoration of Tulsa has the resources and equipment to take care of both commercial property fire damage and residential water damage restoration. Crews can:
Begin Same-Day Flood Cleanup

Focus on Emergency Water Extraction

Pack Out and Store Your Undamaged Possessions

Check for Structural Damage Caused by Water
As a full-service property restoration company, 911 Restoration of Tulsa can also address your mold removal needs after a flood. You don't need to juggle contractors if you call us. We can take all the stress out of the restoration process by offering you:
A Free Visual Mold Inspection for Property Owners Only

Thorough Mold Remediation Services

Mold Decontamination to Remove Spores and Odors
Careful mold removal in Owasso can protect your health and ensure your property is returned to the pristine condition that you deserve. Let us address all of your concerns after you experience commercial or residential flooding. Techs are standing by to begin water damage restoration and mold remediation in Tulsa. Call us at 918-203-4819 and seeing how we can help.
Do You Need Mold Remediation in Tulsa?
Not all property owners in Broken Arrow need mold remediation services after a pipe burst or flood. Your property restoration technicians can check your property with a mold inspection. If mold is discovered, technicians can send a sample to a 3rd party laboratory for identification.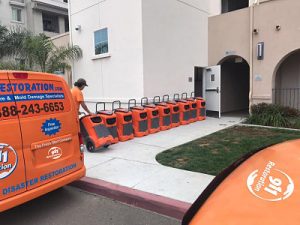 Depending on your situation, you may require mold removal and mold detection and removal decontamination services. The technicians at 911 Restoration of Tulsa are IICRC certified to take care of mold cleanup, including odor removal.
Crews also turn their focus on preventing a mold infestation from ever occurring. Beginning water extraction quickly after a pipe burst, flood, or sewage backup can limit the odds that you will discover mold growth later. Contact us right away if you need help with:
Flood Cleanup Following a Heavy Storm

Dealing with Dampness Left by a Leaking Pipe

Handling Frozen Pipes in the Winter

Carpet Drying or Ceiling Leaks
Water damage restoration and mold remediation in Tulsa can completely restore your home or business while preserving as many of your possessions as possible. 911 Restoration of Tulsa can pack out and store your undamaged belongings while focusing on water damage repairs and cleanup. Once your property is fully restored, your belongings can be returned.
You can get the help you need right away after a flood or pipe burst in Tulsa. Let the professionals at 911 Restoration of Tulsa develop a personalized water damage restoration plan to meet your unique needs, so you can get the Fresh Start you deserve. Move forward with peace of mind by reaching out to us today at 918-203-4819.

Serving the communities of Bixby, Broken Arrow, Catoosa, Chouteau, Claremore, Collinsville, Coweta, Glenpool, Inola, Jenks, Oologah, Owasso, Prue, Skiatook, Sperry, Tulsa, Tulsa County and surrounding area.