Water Damage and Mold Removal in Collinsville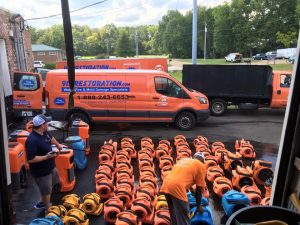 Do you need water damage restoration or mold remediation in Collinsville? Turn to 911 Restoration of Tulsa for the caring, expert service you deserve.
Our water cleanup crew is available to you no matter when your disaster happens. Sewage backup in the middle of the night? Pipe burst on a holiday? It makes no difference. Our highly trained water damage restoration technicians are on call 24/7/365. They even guarantee an arrival time of 45 minutes or less. We know how precious every second is when it comes to protecting your property from devastating water damage. Your dedicated flood cleanup crew makes sure you don't have to wait and worry a second longer than necessary.
Every water damage restoration technician is IICRC certified. They handle all aspects of water cleanup and mold remediation, including damage repairs and carpet drying. While you might see a pipe burst disaster, our experts see an opportunity to rebuild better than before. They  promise to give you a Fresh Start.
All along the way, you can count on us for clear communication and transparent practices. You'll especially want to take advantage of our free insurance consultation. A staff member reviews your policy and clarifies which water damage restoration services your provider will pay for. From sewage removal and roof repair to mold inspection and mold decontamination, you go into the process knowing which costs fall to you. We even assist with claim filing to make sure you get every cent to which you are entitled.
Today may feel like the end of the world, but we promise to make it a Fresh Start. Call 911 Restoration of Tulsa for water cleanup, mold removal, and immediate peace of mind.
24/7 Water Cleanup in Collinsville
Water damage is an emergency everywhere, but it's especially urgent in Collinsville and the surrounding area. As great as life is in this community, there's no escaping the constant risk of water damage. Winter storms, floods, and tornadoes sometimes come out of nowhere. And with the added risk of pipe bursts and other common incidents, there is always a need for flood cleanup in Collinsville.
At 911 Restoration of Tulsa, we understand the urgency you feel. When that pipe bursts and water floods your property, you may wonder:
"How long do I have before I wind up with permanent water damage?"
"How long will it take to get help?"
"Will my property ever be the same after water damage?"
You can find all the answers with the water cleanup experts at 911 Restoration. They're available in an instant, every single hour of every day. They minimize your damage and costs with a prompt response time. They take great care to pack out and store any belongings in harm's way. And they strategize flood cleanup to ensure the most pressing matters are addressed first.
If you need roof repair, emergency boarding up, storm repair, leak detection, or water extraction, they're on it. They handle sewer flood cleanup with the greatest care, sanitizing and drying your property thoroughly. After completing water cleanup, they test for damage or weakness and repair any problems. They even conduct mold inspections and mold remediation themselves.
If you need water damage restoration, you need someone who's fast. Someone who's thorough. Someone who cares.
You need 911 Restoration of Tulsa. Call now.
The Importance of a Mold Inspection After Flood Cleanup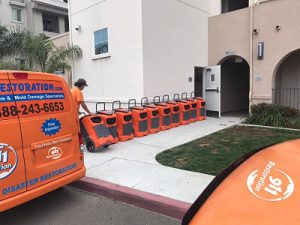 If your property has been hit by water damage, you should bring in a mold remediation professional right away.
All our water damage restoration workers are certified in mold removal. This is because mold contamination is so common after a water incident. Mold spores are constantly in the air, even in the cleanest properties. When water damage strikes, there is a high likelihood that those spores will land on a damp surface and start a colony.
To make matters worse, both water and mold spores find their way into dark, hidden places. Without a mold inspection, fungus can thrive inside your wall or other unseen places.
Our mold remediation workers carefully examine the affected area during mold inspection. If they discover an infestation, they handle mold removal in the manner most appropriate for the type of mold. Some varieties can be dangerous to your health. It takes trained mold decontamination experts like ours to ensure mold removal is safe and lasting. They even dry the structure to its core, ensuring that your home or business is less hospitable to mold.
If you have any reason to suspect the presence of mold in your property, don't wait a minute longer. Save money and stress in the long run; call 911 Restoration of Tulsa today.
Servicing the cities of Bixby, Broken Arrow, Catoosa, Chouteau, Claremore, Collinsville, Coweta, Glenpool, Inola, Jenks, Oologah, Owasso, Prue, Skiatook, Sperry, Tulsa, Tulsa County, and surrounding areas.