Disaster Restoration in Tulsa
No property owner in Tulsa, Owasso, Broken Arrow or any other surrounding cities wants to face a property disaster. Floods, fires, sewage backups, and pipe bursts are often incredibly stressful events. You can limit the stress you experience by getting same-day disaster restoration services with 911 Restoration of Tulsa.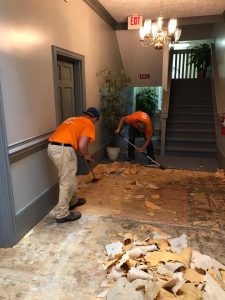 Disaster restoration in Tulsa is only a phone-call away, no matter what time of day the disaster occurs. 911 Restoration of Tulsa is open 24/7/365. Skilled property restoration technicians can reach property in Owasso within 45 minutes of an emergency call. Call us at 918-203-4819 and allow us to provide you with a free visual inspection.

Once crews arrive at your property, the work of property restoration can begin right away. We offer a wide range of disaster restoration services for residential and commercial property owners, including:
Emergency Packing Out and Storage

Emergency Boarding Up

Emergency Roof Repairs

Emergency Water Extraction
You can call us now if you need help dealing with sudden home flooding and water damage in Tulsa. Our water damage restoration crews are IICRC certified to deal with water removal and pipe bursts in Tulsa. Crews are also equipped to handle fire damage cleanup and mold removal in Tulsa.
Here at 911 Restoration of Tulsa, we know that every property disaster is unique. Let us develop a personalized disaster restoration plan to handle water damage, fire damage, mold infestation, or sewage spills. Water damage restoration in Tulsa can repair business or home flooding alongside fire and smoke damage so you can get a Fresh Start with a completely restored property. Our phone number is 918-203-4819 and we are always on stand by waiting to help.
Restoring Water Damage in Tulsa
Many property disasters are caused by water in the areas around Broken Arrow. A pipe burst or heavy rains can easily lead to business and home flooding in Tulsa. Property owners may also have to deal with sewage backups or heavy winter storms in the area.
These examples of water damage should be addressed immediately. Water damage restoration in Tulsa can bring your property back to perfect condition. The technicians at 911 Restoration of Tulsa can begin the process by:
Completing a Free Visual Inspection for Property Owners Only

Repairing Pipe Bursts or Leaking Pipes

Handling Water Extraction

Using Dehumidifiers to Dry Your Property
Water damage in Tulsa can also lead to mold infestations. A fungal infestation can become a property disaster as mold spreads through your home or business. Fortunately, you can get mold removal services by contacting 911 Restoration of Tulsa right now.
Mold removal in Tulsa can stop this fungus from continuing to grow in your property. The mold cleanup crews at 911 Restoration of Tulsa can determine what type of mold you are dealing with and then develop a mold remediation plan. Getting professional help with mold decontamination can even remove odors associated with mold growth.
Handling water damage restoration and mold removal quickly can allow you to move forward with peace of mind after a property disaster. Let us work tirelessly to restore your property to the beautiful condition that you remember after an emergency.
Beginning Fire Damage Restoration after a Disaster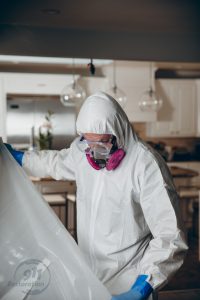 Water damage can lead to a property disaster, especially if you are dealing with a pipe burst, heavy rains, or a sewage cleanup company. Fires can also cause tremendous amounts of damage. You may need disaster restoration services after a commercial or residential fire in Tulsa.
911 Restoration of Tulsa is a full-service fire damage cleanup company. Crews can take care of all of your needs after you experience a fire. Our fire and smoke restoration crews are IICRC certified to:
Check for Structural Damage After a Fire

Deal with Water Damage from Fire Hoses

Clean Up Fire Damage with Soda blasting
Fire damage cleanup in Tulsa is often a complicated process that requires water damage mold inspector as well. Firefighters may use hoses to put out the inferno and some properties have sprinkler systems that will activate when sensors detect smoke, which can lead to business or home flooding.
You can rely on the fire damage cleanup crews at 911 Restoration of Tulsa to handle all aspects of property restoration after a fire. Crews can repair water damage while focusing on smoke, ash, soot, and odor removal. Getting immediate professional help with fire damage cleanup can ensure your property is quickly returned to pristine condition.
You don't have to deal with a property disaster on your own in Tulsa, Owasso, Broken Arrow, or any other surrounding cities. You can call 911 Restoration of Tulsa right now to speak with IICRC-certified professional technicians who have the training and experience to restore your property and to return your peace of mind. Call us at 918-203-4819 and see how we can help.

Serving the communities of Bixby, Broken Arrow, Catoosa, Chouteau, Claremore, Collinsville, Coweta, Glenpool, Inola, Jenks, Oologah, Owasso, Prue, Skiatook, Sperry, Tulsa, Tulsa County and surrounding area.