Water Damage And Mold Removal in Skiatook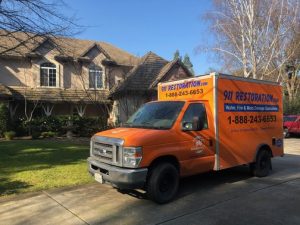 Where do you turn when a pipe bursts in the middle of the night? Who do you call for a sewage backup on Thanksgiving? Who can make your property beautiful again after devastating tornado damage? Where can you get certified mold remediation?
The answer to all these questions is 911 Restoration of Tulsa.
911 Restoration is staffed by IICRC certified water damage restoration technicians. They can handle any problem your water disaster throws their way, and they handle it quickly. Call any time of the day or night, any day of the year, and a flood cleanup crew will be at your door in no more than 45 minutes. These water damage restoration workers have been trained in everything from water extraction to roof repair to mold remediation. They don't just dry out your property. They fully restore damaged structures and conduct a mold inspection to make sure your home or business is left cleaner and stronger than ever.
A lot of property owners wonder about water restoration rates. What will it cost? Does insurance cover flood cleanup? Is mold decontamination considered a part of flood cleanup? While these questions are impossible to answer without knowing your unique situation, we can tell you upfront that you can expect stellar support from the water damage restoration staff when it comes to minimizing your expenses. Not only does the flood cleanup crew work at top speed to limit damages, but they also provide a free insurance consultation to ensure your provider is billed for every service they've promised to cover. 
Between run-of-the-mill pipe bursts and the storms typical of the region, property owners are always at risk of needing water damage restoration in Skiatook. Thankfully, they've always got 911 Restoration of Tulsa to turn to. You can turn to us, too.
24/7 Water Damage Repair
Pipe bursts and winter storms don't stick to a predetermined schedule. For that reason, 911 Restoration of Tulsa keeps the phone lines open 24/7/365. The flood cleanup crew is ready and waiting to take your call.
When they arrive at your home or business, they come prepared to handle whatever service your water disaster calls for. If you need emergency roof repair, storm repair, boarding up, or packing out and storing for your at-risk belongings, they do it. If you've got a nasty sewage backup, they remove black water quickly and thoroughly sanitize the affected area. And whether it's sewage or water they've extracted, they complete all flood cleanup with structural drying to make sure your property is completely free of damaging moisture, saving you mold remediation costs later on down the road.
Depending how long the water was left standing on your property, you may have some permanent damage. Too much exposure to water can lead to rotting, warping, and many other forms of damage to your walls, ceiling, and floor. Fortunately, the water damage restoration professionals have been trained to manage repairs for all types of damage. It doesn't matter what surface, structure, or material has been destroyed. They tear out the destruction and make your property brand new again.
Day or night, weekend or weekday, you can count on 911 Restoration of Tulsa for comprehensive flood cleanup. Give us a call and put today's disaster behind you.
Toxigenic Mold Removal In Skiatook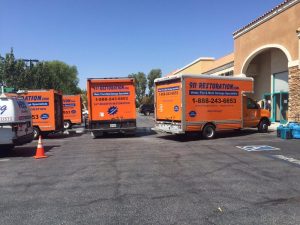 No thanks to the area's hot, muggy climate and frequency of water damage, there is a regular need for mold inspection in Skiatook and the surrounding area. If you've recently experienced a pipe burst or any type of water damage, it's in your best interest to seek out a professional mold inspection, too.
Mold can develop quickly on any surface that holds moisture. The organism especially thrives in dark corners and behind walls. Without prompt mold removal, an infested property is likely to experience major damage over time. Mold eats away at your floor, walls, ceiling, and even wallpaper. Worse, certain varieties present a great risk to your health.
You may be aware that black mold is very dangerous. Black mold is toxigenic, which means that a delay in mold remediation allows the colony to continually contaminate the air with mycotoxins—tiny particles that can be breathed in and create toxicity in your body. When you have a toxigenic mold infestation, it is important to get a mold inspection and mold removal services from a certified professional. 
The mold remediation specialists at 911 Restoration are trained extensively in the sensitive art of toxigenic mold removal. They know how to get rid of the growth safely, without spreading an excess of mycotoxins. Just as important, they follow mold removal with structural dehumidifying to ensure that the dangerous infestation is unlikely to return. 
Both water and mold can have devastating effects on your home, health, and happiness. But no matter what you've been through, 911 Restoration of Tulsa can help you get past the struggles of today and on to a Fresh Start. Call now.
Servicing the cities of Bixby, Broken Arrow, Catoosa, Chouteau, Claremore, Collinsville, Coweta, Glenpool, Inola, Jenks, Oolgah, Owasso, Prue, Skiatook, Sperry, Tulsa, Tulsa County, and surrounding areas.