Water Damage And Mold Removal in Owasso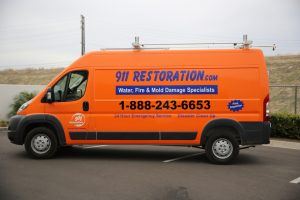 When a pipe bursts in the middle of the night, waiting until business hours for help is simply not an option. You need 24/7 emergency water damage restoration, and you can get it from 911 Restoration of Tulsa.
Our IICRC certified flood cleanup technicians have been handling water damage restoration in Owasso for a long time. They've seen it all, from tornado damage to sewage backups, and they have been extensively trained to take care of all your needs. If you need emergency roof repair, they're on it. If you need water extraction and structural drying after a pipe burst, they've got that covered, too. They can even repair any destroyed surface or structure, and they complete every job with a mold inspection and mold remediation.
Even better, they'll be at your door in 45 minutes or less, no matter when you call. Reach out in the middle of the night or at noon on a holiday, and you can still expect the water damage restoration workers to stick to their 45-minute guarantee.
Wondering about our water restoration rates? While the cost can vary significantly depending on the type and extent of your water damage, we can offer you this reassurance upfront: 
Not only do the flood cleanup workers act quickly to minimize damage (and therefore reduce your restoration expenses), but they also provide a free insurance consultation. Because water damage restoration can be so complex, it's not always obvious which services your provider will pay for. Are you covered for sewage removal? Drywall repair? Mold inspection? Friendly water damage restoration staff are available to answer these questions for you and to file a claim on your behalf so you can rest assured that you won't pay a dime you don't have to pay.
The stress of water damage is real, but so is the relief 911 Restoration of Tulsa can provide. Give us a call.
Emergency Water Restoration Service
If you're desperate to get water out of your house after a pipe burst, the flood cleanup technicians at 911 Restoration can do that, and they can do it fast. If you're frantic to board up a broken window or destroyed roof, the crew is on it. If sewage has flooded your business and you need to get back to work ASAP… well, you get the idea.
For every single water damage emergency, you can count on 911 Restoration of Tulsa 24/7/365. A reliable flood cleanup crew arrives at the scene in no more than 45 minutes, and they immediately set to work extracting water or sewage, stopping the flow of water, and packing out and storing any belongings that are at risk of damage. Once the water is out of your property, they bring in professional fans to dry the place out and minimize the risk of a mold infestation. Then, just to be sure you truly are protected against mold, they conduct a mold inspection.
If they discover any growth, they follow up with mold removal. They also repair any damages they discover. It doesn't matter what it takes to make your property new again. From carpet removal to drywall replacement, these experts have you covered. 
When these professionals handle flood cleanup in Owasso, they do so with the singular goal of delivering peace of mind. To them, this means much more than prompt water removal. This means clear communication, total transparency, and leaving you with a property that feels stronger and cleaner than ever.
Don't settle for less than a Fresh Start. Call 911 Restoration of Tulsa today.
Residential And Commercial Mold Remediation In Owasso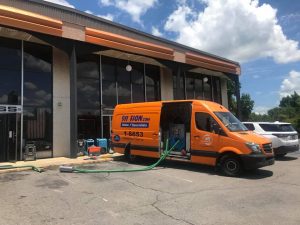 Whether it's a pipe burst or storm damage, a water disaster commonly results in a mold infestation. And you cannot afford to delay mold inspection and mold remediation, no matter what type of property you own. If you wait too long to pursue mold removal in your home, you risk major property damage and put your family, yourself, and your pets at risk of health issues associated with mold contamination. If you're a business owner, a delay in mold remediation can result in a major financial loss in the long run, because sooner or later, you'll have to close your doors while you mitigate a thriving mold infestation.
Fortunately, the water damage restoration crew at 911 Restoration are certified in mold decontamination and serve both residential and commercial properties. The mold inspection staff examine your property for signs of hidden infestations, and if their mold inspection leads to discovery of a colony, they take a sample in for third-party mold testing. 
Many property owners are understandably concerned about the health risks that come from sharing air with a mold infestation. This is why it's important to let the certified mold remediation team at 911 Restoration of Tulsa handle mold removal for you. Once laboratory testing has identified the species of your infestation, mold decontamination experts use that insight to devise the safest mold removal strategy possible. They get rid of the colony without spreading harmful mycotoxins throughout your property and endangering you further. They also dehumidify the structure itself to prevent a repeat infestation.
From structural damage to mold infestations, a water disaster can wreak havoc on your home, your business, and your happiness. But the flood cleanup experts at 911 Restoration can turn that havoc into a bright, new beginning. For the peace of mind you deserve, contact 911 Restoration of Tulsa.
Servicing the cities of Bixby, Broken Arrow, Catoosa, Chouteau, Claremore, Collinsville, Coweta, Glenpool, Inola, Jenks, Oolgah, Owasso, Prue, Skiatook, Sperry, Tulsa, Tulsa County, and surrounding areas.