Water Damage And Mold Removal in Bixby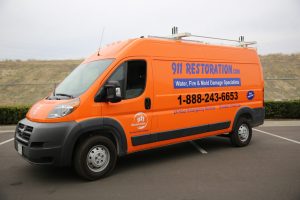 It can be hard to get your head together when a pipe burst or tornado damage strikes. As water floods your home or business, it's hard to think of anything other than the questions rapidly piling up in your mind. "How am I going to get the water out?" "What will it cost me?" "Will my house ever be the same after water damage?" Take a deep breath, pick up the phone, and call 911 Restoration of Tulsa.
You can reach the flood cleanup staff at 911 Restoration 24/7/365. Even if it's in the dead of night, a human being will be there to take your call and an IICRC certified water damage restoration crew will be at your door in 45 minutes or less, guaranteed. From the moment you reach out to us, you don't have to worry about a thing. This crew is extensively trained to take care of every last worry, including damage repairs and mold remediation.
If you're baffled by your insurance coverage, the water damage restoration staff helps you make sense of it. Through their free insurance consultation, they explain which flood cleanup and mold remediation services are covered by your provider. That way, if your pipe burst puts you in need of water extraction, structural drying, drywall replacement, mold inspection, and mold removal, you'll be able to go into the process knowing exactly what costs fall to you and which are covered by your insurance. Then, just to make sure the burden is completely off your shoulders, the water damage restoration staff help you with inventory and loss itemization, they file a claim for you, and they bill your provider directly.
When you find yourself unexpectedly ankle-deep in water, you can always count on 911 Restoration of Tulsa to bail you out. Don't waste another second on worry. Call today, and we'll take care of everything.
Expert Flood Cleanup In Bixby
There's always a high demand for water damage restoration in Bixby and the surrounding communities. The Tulsa area frequently falls victim to floods, tornadoes, and winter storms. Not to mention, there is always a risk of typical property incidents such as pipe bursts, sewage backups, and washer machine floods. The flood cleanup crew at 911 Restoration of Tulsa have extensive experience helping your friends and neighbors get back on their feet after water damage, and they'll do the same for you.
The water damage restoration workers all view your water disaster as an opportunity for a Fresh Start. They do everything possible to get rid of the water and restore your home or business to better-than-new condition.
You can call on them for any emergency service you need, including boarding up, roof repair, water extraction, sewage removal, and packing up and storing your at-risk belongings to keep them safe. They make sure your property is left bone-dry, thanks to professional fans and equipment. They conduct structural testing to ensure your property is sound, and if they discover any damage or weakness, they repair it for you. They even provide a thorough mold inspection and mold decontamination to ensure there is no long-term damage from mold growth.
You may feel overwhelmed trying to plan for all the challenges that come with water damage. With the help of our flood cleanup crew, you can stop worrying and trust the water damage restoration experts to think of everything. Call 911 Restoration of Tulsa for true peace of mind.
Will My Property Be The Same After Water Damage?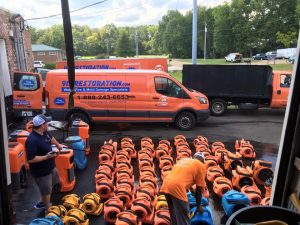 Whether you've been through a flood, pipe burst, sewage backup, or any other form of water damage, you may be wondering if the property you love will ever be the same again. If your damage is especially extensive, it may be hard to imagine that your beloved home or business can once again feel like the refuge you worked so hard to create. Rest assured that your dedicated water damage restoration isn't just focused on cleaning and drying your property. Their goal is to make it better than new. 
Not only do they work hard to provide you with all the structural drying, sanitation, and repairs necessary to get you back on your feet, but they also prevent future damage by following flood cleanup with a thorough mold inspection. Water damage often leads to mold contamination, and if you skip mold inspection and mold removal after a property flood, you won't have a fully restored property.
Our mold inspection crew takes great care to examine your home or business thoroughly, ensuring that if you have an infestation, they'll find it. Every worker is IICRC certified in mold remediation, and they know how to handle mold removal for any species, including dangerous varieties such as black mold. Once they complete mold removal, they conduct structural dehumidifying. This step makes the structure inhospitable to future growth, so it's unlikely you'll need mold remediation again in the near future.
You have every reason to hope that your property will be the same again. For complete water damage restoration and mold remediation in Bixby, call 911 Restoration of Tulsa today.
Servicing the cities of Bixby, Broken Arrow, Catoosa, Chouteau, Claremore, Collinsville, Coweta, Glenpool, Inola, Jenks, Oolgah, Owasso, Prue, Skiatook, Sperry, Tulsa, Tulsa County, and surrounding areas.