Sewage Backup Cleanup
Are you dealing with a sewage backup in Tulsa, Owasso, Broken Arrow, or any other surrounding cities? Sewage backups can leave you dealing with00 hazardous materials and extensive water damage. You can limit the damage to your property right now by calling 911 Restoration of Tulsa.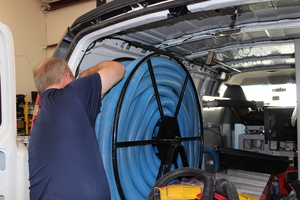 Our experienced sewage cleanup crews can reach your property within 45 minutes of an emergency call in Broken Arrow. We stay on call 24/7/365 so you don't have to try to deal with a sewage spill on your own. Call us at 918-203-4819 and allow us to provide a free visual inspection. Instead, you can get professional help from IICRC certified technicians who have the training and equipment to handle:
Commercial damage restoration and Residential Toilet Water Damage

Sewage Water Cleanup and Extraction

Safe Disposal of Raw Sewage

Drying and Dehumidification Services

Odor Removal and Disinfection
Our crews know exactly what it takes to deal with a sewage water damage inspection cost in Tulsa. As part of a water cleanup company, technicians understand the best ways to quickly and effectively get sewage water out of your property. Technicians are armed with professional-grade equipment, including:
Water Pumps

Air Movers

Fans

Dehumidifiers
You can rely on us to address all of your sewage water damage concerns with same-day service. You don't have to wait to begin sewage cleanup in Tulsa. Call us now and technicians can begin working on sewage restoration for your home or business, so you can get back your peace of mind. Call us at 918-203-4819.

Get Immediate Help with Sewage Backups in Tulsa
A sewage backup can flood raw human waste back into your home or business. Toilet water damage – in any form – can lead to water damage and the admission of dangerous contaminants into your property. Sewage water damage can grow more severe the longer the sewage remains, but you should not try to remove it yourself.
Sewage is classified as black water. This means that is has been in contact with human waste and can be very hazardous to your health. Sewage water cleanup in Tulsa should only be handled by professionals with the correct safety equipment.
911 Restoration of Tulsa has the equipment and training to take on sewage cleanup. Crews can arrive to take care of your sewage water backup before your property can experience additional damage. Our sewage restoration crews won't make you wait as they:
Work to Prevent Additional Sewage from Entering Your Property

Remove the Sewage Already in Your Home or Business

Thoroughly Clean and Disinfect Surfaces Exposed to Sewage

Focus on Water Removal and Sewage Water Cleanup
Getting same day service after a sewage backup in Tulsa can limit the total damage to your home or business. Let us start addressing sewage water damage right away, before the water has a chance to seep into your floors, walls, or possessions.
Crews are ready to charge into action when you experience a sewage water backup in Tulsa, Owasso, Broken Arrow, and all surrounding cities. Contact us now so you can get a Fresh Start with a completely restored home or business. Our phone number is 918-203-4819 and we are always on stand by waiting to help.

Understanding the Causes of Sewage Water Backups in Tulsa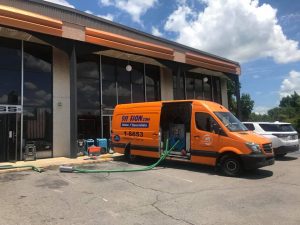 The sewage system in your home or business can work perfectly for years before you experience toilet water damage in Tulsa. Unfortunately, serious issues can be developing during this peaceful period.
Clogs can form in sewage pipes over time. These clogs may be caused by grease poured down the kitchen sink. Other clogs are a result of tree roots growing into older, clay sewage pipes. You can limit the odds of a sewage backup in Tulsa by disposing of grease outside of your sink.
However, sometimes sewage backups cannot be avoided. If you are left to deal with a sewage water backup, you can get immediate help by contacting 911 Restoration of Tulsa. We are a full-service water cleanup company that understands exactly what it takes to successfully complete sewage restoration.
Let us take charge of sewage cleanup in Tulsa. You can wipe away all signs that a sewage backup ever occurred on your property. Technicians can:
Pack Out and Store Your Undamaged Possessions

Clean and Disinfect Possessions Exposed to Sewage

Focus on Sewage Water Removal
During the sewage water cleanup process, technicians can also perform a mold inspection to check for fungal growth in your property. 911 Restoration of Tulsa can handle mold detection and removal alongside sewage cleanup and water damage restoration. Your property can be returned to better-than-new condition after you experience sewage water damage in Tulsa. Call our IICRC-certified team now to find out exactly how we can help you recover from a sewage water backup in Tulsa.

Serving the communities of Bixby, Broken Arrow, Catoosa, Chouteau, Claremore, Collinsville, Coweta, Glenpool, Inola, Jenks, Oologah, Owasso, Prue, Skiatook, Sperry, Tulsa, Tulsa County and surrounding area.