Water Damage and Mold Removal in Prue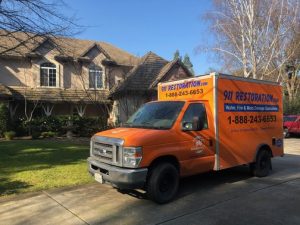 Let 911 Restoration of Tulsa be your first and only choice for mold remediation and water cleanup in Prue. Our IICRC certified water damage restoration technicians are true experts in all aspects of property restoration. They're highly trained in everything from water extraction to property repair to mold remediation. No matter what you've been through—pipe burst, storm damage, or anything else—they make your home or business brand new again.
We provide emergency flood cleanup service 24/7/365. That means even if you have a pipe burst at midnight on New Year's Eve, we're here for you. We even guarantee an arrival time of 45 minutes or less. 
Our water damage restoration technicians aren't just the best in the business. They're also the most compassionate crew you'll find. They see you as a neighbor, not just another invoice. From the moment your call comes in, they do whatever it takes to put your mind at ease. This includes exceptional service, immediate response to your needs, and total transparency. You can even come to us for a free insurance consultation. A water cleanup staff member guides you through your insurance policy, explaining exactly what your provider will pay for. From drywall repair to mold decontamination, you know which costs you're responsible for before water damage restoration even begins.
If you need flood cleanup in Prue, the choice is clear. Call 911 Restoration for the best, most comprehensive service in town.
Water Cleanup and Water Damage Repair
True water damage restoration involves more than water extraction and structural drying. This is especially true in Prue, where pipe bursts and tornadoes are all too common. Such destructive forces require more than wet vacuums and professional fans. 
If you want to make a full recovery after a pipe burst, tornado, or any other water disaster, call 911 Restoration of Tulsa. Our water cleanup technicians do it all.
Sure, they handle the basics like water extraction, structural dehumidifying, and sanitizing after sewer flood cleanup. But they go above and beyond with structural testing to ensure your home or business is still sound and solid. If this testing reveals a vulnerability, they make the necessary repairs themselves. Do you have rotted drywall? Roof destruction? Need to remove your carpet due to water damage? No matter the surface, structure, or material, your water cleanup crew has it covered.
These repair skills are also your saving grace in an emergency scenario. When the weather gets temperamental in Prue, you can count on your water damage restoration experts for storm repair, roof repair, and boarding up. 
As for the future of your property, our water cleanup crew make sure your home or business is mold free. Water damage often leads to a mold infestation. With 911 Restoration, you can feel confident knowing you've already had a mold inspection and any necessary mold remediation.
For a Fresh Start after a pipe burst, property flood, or any other water disaster, call 911 Restoration of Tulsa.
Mold Inspection and Mold Removal in Prue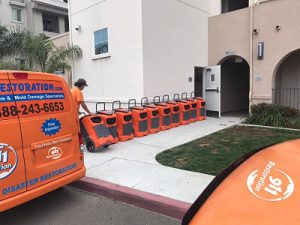 Is there mold in your walls, on your ceiling, or down your pipes? Or do you just suspect you have an infestation because of a funky odor or unexplained dizziness?
In any case, you've made the right decision by looking for professional assistance. Without expert mold remediation, an infestation can turn into a major danger to your property and wellness. Fungus eats away at the materials of your home or business and releases harmful particles into the air you breathe. While mold may seem like a minor household nuisance, it's important to get a professional mold inspection right away.
You can trust the mold removal experts at 911 Restoration to provide safe, reliable mold decontamination. Our technicians know how to handle any kind of infestation you have, from black mold to white mold. They conduct mold removal in a manner that prevents the spread of spores and mycotoxins. They also protect your property in the long term with structural dehumidifying.
You may be tempted to try mold removal yourself using household cleaning products. Trust us, it's better to call on a certified professional. Only a highly trained contractor can conduct a thorough mold inspection to ensure every growth is eliminated. It is also far safer to turn the job over to a mold remediation specialist than it is to put yourself in direct contact with a potentially toxigenic growth.
From water damage to mold contamination, let 911 Restoration be your ally. We've got your back.
Servicing the cities of Bixby, Broken Arrow, Catoosa, Chouteau, Claremore, Collinsville, Coweta, Glenpool, Inola, Jenks, Oologah, Owasso, Prue, Skiatook, Sperry, Tulsa, Tulsa County, and surrounding areas.