Sanitization and Cleanup Services in Tulsa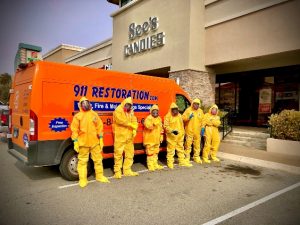 These are difficult times. There is no question about it. The coronavirus pandemic has forced families inside and left many businesses wondering what their future holds. People are anxious and worried about loved ones who are vulnerable to severe infection. That's the bad news.
The good news is that Tulsa has always been resilient. Just as important, ours is a community built on kindness and neighborly commitment. These are the qualities that ensure we will persevere through hard times. But first, we must all recognize coronavirus for the serious threat it is. Call us at 918-203-4819 and see how we can help.

This pandemic is not fatal to most, but it can be fatal to many. Senior citizens and those with underlying health problems have a higher risk for severe complications and even death. If you are not concerned about your own ability to overcome a coronavirus infection, please remember that your actions affect the wider community.
Understanding Sanitization and Cleanup During a Pandemic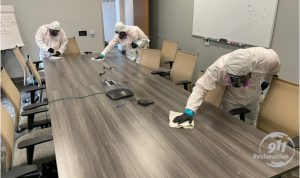 Coronavirus can live in your body for as many as 14 days before you ever show signs of infection. This means even seemingly healthy people can carry the virus, and if you carry it, you can spread it. To avoid inadvertently spreading illness, observe social distancing practices. Wash your hands frequently, Disinfect your property and belongings. And be wary of tips for "curing" or self-diagnosing coronavirus. Not such options exist at this time, and these rumors are simply coronavirus myths.
If you own a retail store or any other commercial property, remember than anyone could contaminate your space without realizing it. Deep clean as often and as thoroughly as you can. Do not take for granted that any contamination will clear out overnight. Coronavirus can remain viable on certain surfaces for hours and even days. Give your customers and employees peace of mind by observing consistent sanitization practices. And if you need help, turn to 911 Restoration of Tulsa. Call us at 918-203-4819 and allow us to provide a free visual inspection.

Our expert sanitization and disinfection crew serves both homes and businesses in Tulsa and the surrounding area. From office deep cleaning to residential disinfection, they do it all. These highly-trained professionals provide top-tier service, adhering strictly to CDC and EPA protocols. They also put your mind at ease with open communication and a transparent process. We understand the challenges you're up against, especially if you own a commercial facility and also recognize the vital service you provide for our community in Tulsa. We want to do whatever we can to provide peace of mind for you and our neighbors.
Times are hard, but this pandemic won't last forever. We will get through it. And in the meantime, call 911 Restoration at 918-203-4819 for sanitization and disinfection.