Mold Removal in Tulsa
Are you dealing with a mold infestation in your home or business in Tulsa, Broken Arrow, Owasso, or any other surrounding cities? If so, you can get same-day mold removal services by contacting 911 Restoration of Tulsa. Call us at 918-203-4819 and allow us to provide you with a free visual inspection. Our mold remediation techs are on-call 24/7/365 and they're ready to:
Complete a Free Visual Mold Inspection for Property Owners Only

Send a Mold Sample to a 3

rd Party Laboratory
Focus on commercial damage restoration and Residential Mold Cleanup
Address Mold Decontamination and Odor Removal
We know how damaging mold growth can be to your property, so technicians will act quickly to begin mold removal in Tulsa. Crews can reach properties throughout Owasso within 45 minutes of an emergency call, no matter what time of the day or night you contact us.
Getting help right away can prevent mold from spreading further through your home or business. Fast mold remediation in Tulsa can also protect your health. Some forms of mold can cause allergic reactions. Other types of mold are toxic and can lead to serious health problems if you inhale their spores.
911 Restoration of Tulsa is IICRC certified to deal with mold decontamination starting right now. Let us assess your needs with a mold inspection and then get down to work returning your property to the perfect condition that you remember. Call us now and you can take the first step to getting back your peace of mind after a mold infestation. Our phone number is 918-203-4819 and we are always on stand by waiting to help.
Can You Put Off Mold Remediation in Tulsa?
Many property owners in Tulsa, Owasso, Broken Arrow, and other surrounding cities first notice a mold infestation due to a foul odor or dark blemishes on their walls. These signs of a mold infestation are often small and easy to dismiss. However, they are often only small representations of a larger problem under your floors or behind your walls.
You can determine exactly what you're dealing with by contacting 911 Restoration of Tulsa for a mold inspection. Our mold cleanup technicians are trained to locate mold no matter where it is hiding. Mold removal technicians can also help you find out what type of mold you are dealing with to understand where and what needs sanitization and cleanup.
Some forms of mold – like black mold – pose immediate risks to your health. All forms of mold can damage your walls, floors, cabinets, and possessions. Beginning mold remediation right away can limit the overall damage to your property. 911 Restoration of Tulsa can move quickly to:
Isolate Areas with Mold Growth to Stop the Spread of Fungus

Use Air Filters to Remove Mold Spores

Remove Items Infested with Mold for Cleaning

Scrub Your Walls, Ceilings, Floors, and Other Impacted Areas
Mold decontamination in Tulsa can even remove the odors associated with mold growth. You can completely restore your home or business by moving quickly to address any sign of a fungal infestation with mold testing and mold cleanup in Tulsa.
911 Restoration of Tulsa has the equipment and training to handle any mold infestation. We don't consider any job too big or too small, so call us now at 918-203-4819.
What Causes Mold Growth in Tulsa?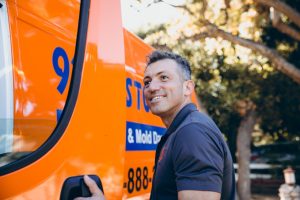 Mold can infest your home or business in a number of different ways. Mold spores often travel in the air, which means they can come in through your AC unit. They may also be carried in on your clothes on with your pet's fur.
Mold infestations are also associated with water damage. Pipe bursts, sewage spills, and floods can all introduce moisture into your property. This moisture can provide mold with an ideal environment to grow and spread.
911 Restoration of Tulsa can help you reduce the risks that you'll experience a mold infestation by taking care of water damage restoration right away. Our water extraction crews can get water out of your property and even use dehumidifiers to remove all traces of moisture.
Crews can carry out a mold inspection in Tulsa after any instance of water damage to check for the presence of this fungus. Mold removal can begin right away if mold is located. You can count on us to:
Focus on Mold Cleanup

Dispose of Items Infested Heavily with Mold

Deal with Mold Decontamination

Repair the Cause of the Mold Infestation
Mold remediation and water damage restoration can offer you the peace of mind you need after you experience a flood, pipe burst, or sewagespill. Let us completely renovate and restore your property in Broken Arrow. You can get back to your normal, day-to-day life with a Fresh Start by contacting our IICRC-certified experts now at 918-203-4819.