About Us
Meet the Owner
911 Restoration of Tulsa owner, Mike Manlandro, has over 40 years of experience in the construction industry. He joined the company after learning about the numerous benefits that accompanied opening a franchise with 911 Restoration, including being a part of a trusted national brand and offering a fresh start to commercial and residential property owners in Tulsa.
Empathetic and Experienced Commercial Restoration Services
Seeing the destruction that Oklahoma storms and tornadoes leave in their wake, Mike is committed to offering commercial roofing services to his neighborhood. Being a member of the 911 Restoration family, Mike can now utilize his construction expertise for good, offering Tulsa residents a fresh start after a natural disaster has struck their home or business.
911 Restoration of Tulsa is dedicated to always putting their clients at the center of their attention. Whether it is water damage from a natural disaster such as a flood or storm or manmade, including burst pipes or a leaking roof, Mike and his team will be at your doorstep within just 45 minutes of your initial phone call to offer empathetic and experienced commercial restoration services with a smile.
How to Protect Your Home or Business from Flooding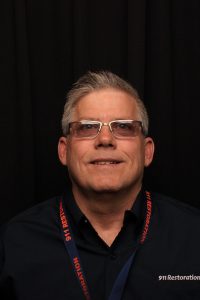 Mike and his crew want to keep property owners in Tulsa safe from the perils of water damage brought on by unexpected flooding. This is why they offer proactive tips on how to prevent water damage from occurring inside of your home, apartment building, office complex, or retail hub. Some ways you can prevent flooding from happening include:
Evaluating the risks of flooding in your property and how well your building will be able to withstand it.

Install foundation vents or a sump pump.

Apply coatings and sealants to your foundation, windows, doorways, and walls which will help to prevent flood water from leaking into your building through cracks.

Raise your electrical outlets and switches, including sockets and circuit breakers. They should be at least one foot above flood level in order to prevent electrical damage from happening in the event of a flood.

Grade the lawn away from the building. If the lawn tilts toward your home or commercial property, water from a storm can pool around the building. Utilize a heavy soil that contains clay and sand to adjust the regrade of the lawn so that surface runoff empties into a street gutter.

Install check valves in your pipes to prevent a flooded sewer system from backing up into your building.
Contact Professional Who Care
It's critical for Tulsa, OK residents to take preventative measures to ensure water damage from a storm doesn't affect their building. But if it does, it's important to call in the professionals of 911 Restoration of Tulsa. Mike and his team will be at your home or office within the hour to start the cleanup and restoration process. They offer:
A free visual inspection for property owners only

Same day servicing

Licensed, bonded, and insured services

Emergency water extraction

Leak detection and repair

Emergency roof repair

Burst pipe emergency repair

Complete home and business property restoration

And much more!
Call Mike and his team today to offer shelter from the storm!