Water Damage And Mold Removal in Broken Arrow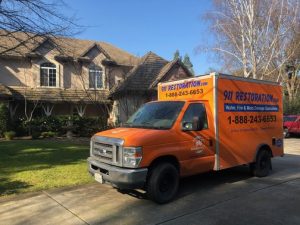 After all the time and resources you've invested in your property, there are few experiences as devastating as watching water destroy your home or business. Whether you're recovering from an Oklahoma tornado or it's just a run-of-the-mill pipe burst, water damage is always an emergency. And you can always count on the water damage restoration crew at 911 Restoration to treat your disaster with the urgency it deserves.
911 Restoration of Tulsa provides emergency flood cleanup in Broken Arrow and the surrounding community 24/7. You can reach us literally anytime, even at 3:00 in the morning and even on Thanksgiving Day. No matter when you call, the water damage restoration crew is guaranteed to be at your property in 45 minutes or less, so you don't have to spend another minute worrying about when help will arrive.
The flood cleanup experts at 911 Restoration know exactly how stressful a business or house flood can be. They do everything imaginable to communicate accurately and set clear expectations so you know what lies ahead in the water damage restoration process. If you're wondering whether your insurance covers flood cleanup, mold inspection, or mold remediation, they've got you covered there, too. A staff member sits down with you for a free insurance consultation to clarify which of your needed services will be covered by your provider. They even assist with loss itemization and they file your claim for you. Their goal is to help you alleviate the worry of water damage restoration costs immediately.
From pipe bursts to ice dams, water damage creates instant anxiety and the sense that your property is no longer your own. Our flood cleanup crew is here to help you take back your home or office and repair all the damages so you can start over, better than ever. 
For compassionate service and a Fresh Start, call 911 Restoration of Tulsa today.
Full-Service Water Damage Restoration In Broken Arrow
Water damage restoration tends to be a more complex process than many people expect. The good news is that no matter how extensive your water damage is, the professionals at 911 Restoration are trained to handle it. Every technician is IICRC certified and equipped to manage all phases of water damage restoration. Not only can they handle emergency services like boarding up, water extraction, storm repair, and roof repair, but they're also skilled in full-property restoration. This means that no matter how water may have damaged your property, this crew can fix it. Do you need carpet replacement? Drywall repair? Has your roof been destroyed? Is there permanent water damage on your sheetrock? Don't sweat it. Your friendly flood cleanup crew has it under control.
The water damage restoration professionals are also certified in mold inspection and mold remediation. Not only does water damage commonly lead to a mold infestation, but the hot, muggy summers in Broken Arrow do very little to discourage mold growth. In the wake of a pipe burst or any other form of property flooding, the flood cleanup workers bring in professional fans to thoroughly dry out the affected area in an effort to get out in front of the problem. Sometimes, however, a mold infestation cannot be avoided. That's why the crew also conducts a thorough mold inspection and follows up with any necessary mold removal.
No matter what water damage restoration services you need, you can trust that your dedicated technicians do whatever it takes to make today's disaster a foggy memory. Call 911 Restoration of Tulsa and put water damage behind you.
Why Should I Get A Mold Inspection After Water Damage?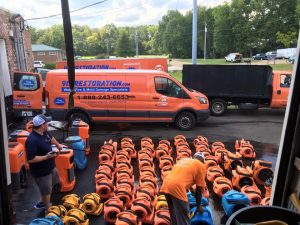 If you've recently experienced a pipe burst or any other water disaster, you should seek out a mold inspection from a certified professional like 911 Restoration right away.
Not only do mold spores need very little time to create a mold colony on a damp structure, but the colony itself wastes no time in spreading additional spores and eating away at the materials within your home or business. The longer you wait on mold remediation, the worse your damages will be. And if you attempt mold removal yourself using household cleaners, you'll likely be missing an additional infestation hidden out of view. 
To really be certain your home or business is free of fungus, you need a thorough mold inspection from professionals who know how to track down mold wherever it's hiding. If there's mold behind your walls or in your ceiling, the mold inspection crew at 911 Restoration will find it. Just as important, their training makes them true experts in safe mold removal. 
Many property owners underestimate the potential damage to their health when it comes to mold. While there is a lot of information out there about the dangers of black mold, the truth is that most species carry varying health risks at varying degrees of intensity. By putting off mold remediation, you increase your exposure to harmful airborne particles that can cause anything from asthma to heart conditions if you breathe them in. And if you try to take care of mold removal yourself, you put yourself in direct contact with these dangerous organisms.
Let the mold decontamination experts at 911 Restoration do what they do best: protect your well-being above all else. From water damage restoration to mold remediation in Broken Arrow and beyond, choose the contractor who puts you first. Choose 911 Restoration of Tulsa.
Servicing the cities of Bixby, Broken Arrow, Catoosa, Chouteau, Claremore, Collinsville, Coweta, Glenpool, Inola, Jenks, Oolgah, Owasso, Prue, Skiatook, Sperry, Tulsa, Tulsa County, and surrounding areas.