Water Damage And Mold Removal in Tulsa County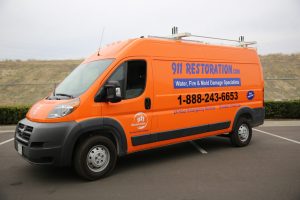 A water disaster can feel like the end of the world, but if you need flood cleanup in Tulsa, Broken Arrow, or the surrounding communities, you'll find that a pipe burst isn't so intimidating after all. That's because 911 Restoration of Tulsa is one easy call away. IICRC certified water damage restoration technicians are on hand 24/7/365, and when your call comes in, they're on the scene in 45 minutes or less. Call us at 918-203-4819 and allow us to provide a free visual inspection.

There is nothing these flood cleanup experts can't do. They offer comprehensive service, confronting every challenge that stands between you and a fully restored property. Need emergency boarding up? They've got it covered. Sewage extraction? Done and done. They even repair all damages and conduct a mold inspection and mold decontamination to make sure your property is better and stronger than ever before.
The water damage restoration staff goes above and beyond to make sure the cleanup process is as easy on you as possible. They offer a free visual inspection for property owners so you know exactly what to expect before water damage restoration even begins. They also review your insurance policy with you as part of their free insurance consultation. They explain exactly which services your provider will cover, from roof repair to mold removal. And if you're overwhelmed by the thought of paperwork, they've got that covered, too. They help you out with inventory and loss itemization, they file a claim for you, and they bill your provider directly.
There is no denying the stress that comes with seeing your well-loved home or business threatened by a pipe burst. But all it takes to find peace of mind is one quick call to 911 Restoration of Tulsa. Drop us a line today, call us at 918-203-4819.
Emergency Water Damage Restoration In Tulsa
If you're in the midst of a water disaster, you know a property flood is nothing less than an emergency. The flood cleanup technicians at 911 Restoration know it, too, and you can depend on them for an urgent response and compassionate service.
The water damage restoration crew approach your emergency as if it were their own. They work at top speed to handle storm repair, roof repair, boarding up, water extraction, or any other service you need to stop the flow of water and get moisture out of your property. They pack out and store your precious belongings to keep them safe during flood cleanup, and they make any repairs necessary to restore your property to brand new condition. 
911 Restoration provides comprehensive water damage restoration for both residential and commercial properties. Whether you own a ranch house or a department store, you can trust that these experts are capable of drying any area, repairing any surface or structure, and providing a complete mold inspection and mold remediation to ensure your water disaster has no long-term effects on your home or business.
For property owners in Tulsa, Owasso, and beyond, there's always a way to turn a water damage disaster into an opportunity to rebuild better than ever. Call 911 Restoration of Tulsa and look forward to your Fresh Start. Our phone number is 918-203-4819 and we are always on stand by waiting to help.

Tulsa's Trustworthy Mold Remediation Contractor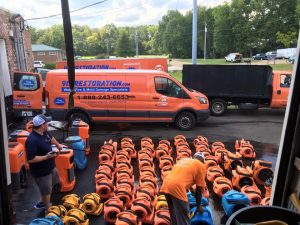 Mold contamination is a property disaster that needs to be addressed right away. If you have experienced a recent pipe burst or any other water damage, it's important to have your home or business checked for mold right away. And your absolute best bet is to call the number one expert for mold remediation in Tulsa: 911 Restoration.
The mold remediation workers have all undergone intense training to become true specialists in mold inspection and mold removal. Just as important, they uphold 911 Restoration's values of honest service and total transparency. Every mold inspection is followed with professional mold testing at a third-party laboratory. This ensures that both you and your mold remediation workers have a scientific, unbiased report on your specific infestation before moving forward with mold decontamination.
Why is mold testing necessary? There are more than 100,00 species of mold, and various species carry various risks and behaviors. Black mold, for example, is toxigenic and requires great care and caution during the mold removal process. When your mold inspection specialists know what species of mold they're dealing with, they know how to eliminate the infestation in a manner that is both safe and effective.
Once mold removal is complete, the mold remediation crew bring in professional tools for structural dehumidifying. Once the structure is completely dry, they can leave your property knowing that the infestation is unlikely to return.
The bottom line is that from the time your call comes in until the final stages of mold removal, the water damage restoration crew always works with your best interests in mind. Don't make yourself stress another second. Call 911 Restoration of Tulsa now and finally breathe easy. Our phone number is 918-203-4819.

Servicing the cities of Bixby, Broken Arrow, Catoosa, Chouteau, Claremore, Collinsville, Coweta, Glenpool, Inola, Jenks, Oolgah, Owasso, Prue, Skiatook, Sperry, Tulsa, Tulsa County, and surrounding areas.