Water Damage And Mold Removal in Jenks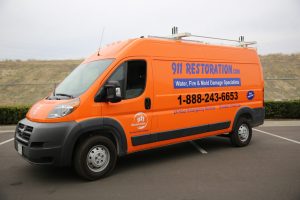 If you need water damage restoration in Jenks, look no further than 911 Restoration of Tulsa.
Our IICRC certified flood cleanup technicians are available to you 24 hours a day, 7 days a week. You can call for a pipe burst in the middle of the night or storm damage in the middle of a holiday, and they'll still be at your door in 45 minutes or less, guaranteed. 
You can count on your dedicated water damage restoration crew to provide the very best service possible. 911 Restoration holds all professionals to the highest standards, and every flood cleanup technician has been extensively trained in everything from water extraction to structural repairs to mold inspection and mold decontamination. When they arrive at your home or business, they come with the intention of making your property brand new again. They work diligently until every structure is dry, every surface has been repaired, and they've ensured that your place is 100% mold-free.
You may have a lot of questions going into the water damage restoration process, and the flood cleanup specialists have all the answers. They perform a free visual inspection for property owners so you can anticipate all the potential damages and necessary services presented by your pipe burst, storm damage, or other water disaster. They also offer a free insurance consultation, helping you understand which services your provider will cover, from sewage removal to mold remediation. 
Above all, the team at 911 Restoration seeks to give you peace of mind. This means clear communication, outstanding service, and a Fresh Start.
Call 911 Restoration of Tulsa today.
Residential And Commercial Flood Cleanup In Jenks
Homes and businesses in the Janks area are always vulnerable to water damage. In addition to the pipe bursts and sewage backups that can happen to any property, the local climate presents the ever-increasing likelihood of winter storm damage, flooding, and tornadoes. No matter what caused your water damage disaster, you can count on 911 Restoration to provide the solution.
The water damage restoration crew at 911 Restoration serve both residential and commercial property owners. It doesn't matter if you own a ranch house or an office building, our certified technicians can provide you with total property restoration. They're available to handle any emergency, including roof repair, storm repair, boarding up, water extraction, leak detection, and sewage removal. If you have at-risk personal belongings or inventory, the crew packs those items and stores them for safety during water damage restoration.
No matter what type of damage you have, the flood cleanup experts are trained to manage that, too. Rotted drywall? Warped floorboards? Roof destroyed by an ice dam? They've got you covered. They replace compromised structures with brand new material, leaving your home or business even stronger than before.
They also get out in front of potential mold damage with a thorough mold inspection. And if they discover a developing infestation? No problem there, either. These workers are certified in mold remediation. They get rid of the mold, and they make sure it's gone for good.
From pipe bursts to tornado damage, there's one thing you can always count on:
The expert service of 911 Restoration of Tulsa. Call today.
Mold Decontamination After Water Damage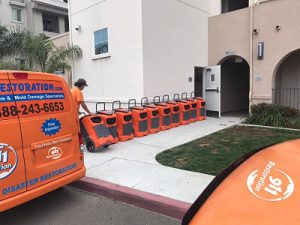 Did you know mold spores only need 24-48 hours to land on a damp surface and create a thriving mold colony? It's true. That's why your water damage restoration crew always completes service with a mold inspection.
If an infestation is allowed to thrive without prompt mold removal, the long-term damages to your property could be costly. Mold eats away at organic material like wood, paper, and glue. It can contaminate your carpet permanently. Most importantly, most varieties of mold have the potential to cause a variety of health problems. The longer you delay mold remediation, the more opportunities you, other humans, and pets have to inhale mycotoxins and other harmful particles released by mold.
When your mold inspection experts discover a growth in your home or business, they identify the species and create a comprehensive plan for mold removal. It's always important to leave mold remediation to trained professionals, as the very process of mold removal has the potential to release an excess of mycotoxins into the air. The mold remediation professionals know how to get rid of your infestation safely and effectively. They dehumidify the structure so any remaining mold spores don't have a place to land, and they repair any damage the colony may have caused.
Whether your concerns are about property damage or mold contamination, know this: your home or business truly can be the same after water damage. In fact, with 911 Restoration on your side, your property can be better than ever.
For the best water damage restoration and mold removal in Jenks, call 911 Restoration of Tulsa.
Servicing the cities of Bixby, Broken Arrow, Catoosa, Chouteau, Claremore, Collinsville, Coweta, Glenpool, Inola, Jenks, Oolgah, Owasso, Prue, Skiatook, Sperry, Tulsa, Tulsa County, and surrounding areas.