Water Damage and Mold Removal in Oologah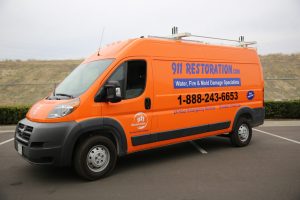 We understand how it feels when an out-of-nowhere pipe burst floods your property with water. Your mind is reeling. How much will this cost? How severe will the damages be? How soon can someone be here to help?
If you call 911 Restoration of Tulsa, you can count on help to arrive in 45 minutes or less, guaranteed. Our water damage restoration experts are on call 24 hours a day, 7 days a week, every single day of the year. We serve both business and residential properties with water cleanup in Oologah and the surrounding area. Whatever you need, wherever you are, we're here for you.
The flood cleanup technicians at 911 Restoration serve you with compassion. They make your peace of mind their top priority. This means transparent practices, clear communication, and dedication to high standards. We even provide a free insurance consultation. Whether you're dealing with a pipe burst or tornado damage, water cleanup can be a complex process. You may have no idea whether your insurance policy covers mold remediation, mold inspection, or roof repair. We put your mind at ease by clarifying the benefits of your specific policy. Then, a water cleanup staff member assists with loss itemization, claim filing, and direct billing.
From beginning to end, our goal is to make your home or business strong and beautiful once again. For the very best water damage restoration and mold remediation in Oologah, call 911 Restoration of Tulsa.
Full-Service Flood Cleanup in Oologah and Beyond
There are many types of water damage. This is especially true in Oologah, where property owners deal with everything from frozen pipe bursts to storm and tornado damage. Rest assured that whatever you've been through, our water cleanup experts can handle it.
Not only that, but your dedicated water damage restoration crew can do everything it takes to make your home or business new again. They're IICRC certified and trained in all aspects of property restoration. Do you need sewer flood cleanup? No problem. Need your carpet removed due to water damage? They're on it. Structural drying? Mold inspection? Mold remediation? Done, done, and done.
The water cleanup crew arrives at your property prepared to handle any emergency. If you need boarding up, roof repair, or leak detection, they've got it covered. They even pack out and store any belongings at risk of being damaged during water damage restoration. Their flood cleanup strategy is built around the goal of minimizing your damages. After all, the less damage you incur, the lower water cleanup costs will be.
We also don't want you to have to track down another contractor to rebuild after a disaster. We know that the more companies you hire, the longer and more expensive your recovery process becomes. You can trust your flood cleanup workers to replace what's broken and repair what's damaged.
Whether it's a pipe burst or any other water disaster, we know this incident may feel like the end of the world. But your water damage restoration crew sees it as an opportunity for a Fresh Start. Call 911 Restoration of Tulsa and let us turn this nightmare into a new beginning.
Do I Need a Mold Inspection After Water Damage?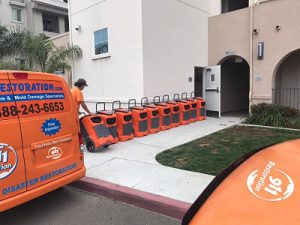 Our water cleanup workers are also certified mold remediation experts. They have training in both areas of restoration, because water and mold so frequently go hand-in-hand. That's why every water damage restoration job we take on ends with a mold inspection.
If you've had water damage but did not get a mold inspection, we encourage you to contact our mold remediation team right away. Mold spores are constantly in the air around you. A water incident gives these spores a damp place to land. Once they land, it only takes 24-48 hours to develop a mold colony.
To complicate matters further, mold is most likely to grow in hard-to-see spaces. This is why it's important to get an inspection from a certified mold removal contractor. Our mold decontamination staff examines every square inch of the affected area. Then, if they discover any growth, they handle mold removal using advanced tools and up-to-date methods.
Some property owners wonder if they can put off mold removal, especially if the growth isn't infamously dangerous black mold. The truth is that all varieties of mold are harmful and require prompt mold remediation. Even if your infestation is not toxigenic like black mold, it is likely at least allergenic or pathogenic. Plus, the entire purpose of mold is to break down organic materials. This means mold eats away at wood, glue, wallpaper… all the materials that hold your property together. The longer you put off mold removal, the more severe the damage becomes.
Don't live with mold contamination a second longer than you have to. Take care of your property and yourself; call 911 Restoration of Tulsa today.
Servicing the cities of Bixby, Broken Arrow, Catoosa, Chouteau, Claremore, Collinsville, Coweta, Glenpool, Inola, Jenks, Oologah, Owasso, Prue, Skiatook, Sperry, Tulsa, Tulsa County, and surrounding areas.