Water Damage And Mold Removal in Glenpool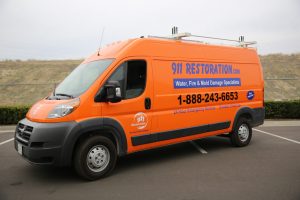 When a pipe bursts in your home or business and sprays gallons of water into your property, it's hard not to go into a state of full-blown panic. Who can dry the water out? Will your property be the same after water damage? Are water restoration rates high?
It's going to be fine. Take a deep breath and call 911 Restoration of Tulsa.
The water damage restoration experts at 911 Restoration are available to you day or night, every single day of the year. They are prepared to answer every one of your questions and a flood cleanup crew is always on hand and able to be at your property in 45 minutes or less. And that's not an estimated arrival time; that's a guarantee.
To ease your worry about the cost of water damage restoration, expert staff provide a free insurance consultation. Once they know what flood cleanup services you need—from sewage extraction to roof repair to mold inspection—they walk through your insurance plan with you to clarify which services your provider is responsible for. Then, to make sure you get every benefit, they guide you through loss itemization, file a claim for you, and bill your provider directly.
As for flood cleanup service itself, you can always be sure you're getting the best with 911 Restoration. Every water damage restoration technician is IICRC certified, which means they've undergone extensive training in all aspects of water removal, property restoration, and mold inspection and mold decontamination. Whatever you need, they do it, and they do it better than anyone.
As stressful as today's disaster is, your dedicated water damage restoration crew can already see the light at the end of the tunnel. Call 911 Restoration of Tulsa and look forward to a Fresh start.
Comprehensive Water Damage Restoration In Glenpool
The crew at 911 Restoration has done a lot of flood cleanup in Glenpool. And between the storms, tornadoes, and frequency of pipe bursts, they've seen it all. No matter what your specific water damage disaster is, you can trust your dedicated water damage restoration crew to provide total relief and a better-than-new property.
The process of water damage restoration varies depending on your type of disaster, but here's a general idea of what you can expect:
When the flood cleanup technicians arrive, they quickly assess the situation and devise a strategy for quick solutions that ensure the least damage possible. They do anything from boarding up and roof repair to leak detection and sewage extraction. Their first order of business will always be to stop the flow of water and remove moisture from your property right away, as the longer water lingers, the more destruction you have to deal with. They bring in professional fans for the same reason. If the structure of your property is not thoroughly dried, you are likely to wind up with a mold problem. In fact, mold can develop so quickly that sometimes it cannot be avoided. That's why your flood cleanup crew also perform a mold inspection and mold remediation.
Of course, your property is not truly back in top condition until all damages have been dealt with. Fortunately, the water damage restoration experts are equipped to handle any repair, from roof damage to carpet removal. 
At 911 Restoration, customer satisfaction and peace of mind are more important than anything else. For clear communication, compassionate attention, and the very highest standard of service, call 911 Restoration of Tulsa.
Certified Mold Removal Specialists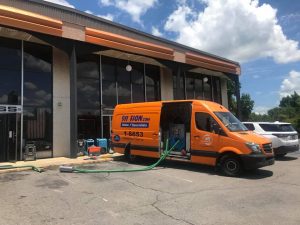 Mold contamination is extremely common following a water disaster. If you've recently had a pipe burst or any other form of water damage, it's extremely important that you pursue a professional mold inspection right away. Mold grows in dark, hidden places. You may not even realize it's there. But the longer you wait on mold remediation, the worse the infestation becomes, eating away at your property and releasing dangerous particles into the air you breathe.
Even if you can see a growth, you should still hire a certified mold inspection contractor rather than scrubbing at the infestation yourself. Where there is mold in plain sight, there is often an additional colony hidden behind walls. The mold remediation crew at 911 Restoration will discover mold no matter where it's hiding. They know all the signs of an unseen infestation, and they know how to handle mold removal properly.
Many business owners feel the temptation to just handle mold removal themselves. They figure some heavy duty household cleaners are enough to accomplish mold decontamination. This just isn't the case. Not only are home remedies far less effective at mold removal than professional tools, but a certified mold remediation specialist also provides structural dehumidifying. This is the step you need to make sure your infestation truly stays away.
For flood cleanup and mold remediation in Glenpool, there's one clear answer: 911 Restoration of Tulsa. Reach out today. The solution to your problem is closer than you think.
Servicing the cities of Bixby, Broken Arrow, Catoosa, Chouteau, Claremore, Collinsville, Coweta, Glenpool, Inola, Jenks, Oolgah, Owasso, Prue, Skiatook, Sperry, Tulsa, Tulsa County, and surrounding areas.