Water Damage And Mold Removal in Coweta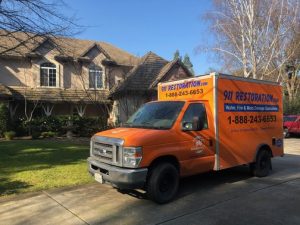 Do you need emergency flood cleanup in Coweta? You can find the most urgent and complete water damage restoration service available with 911 Restoration of Tulsa. From pipe bursts to tornado damage, these IICRC certified technicians do it all. If you need emergency boarding up, they've got you covered. If you need sewage removal, they're on it. Roof repair, mold inspection, structural drying… check, check, and check. Call us at 918-203-4819 and allow us to provide a free visual inspection.

Every water damage restoration expert on staff has undergone extensive training to promise you the very best service. Staff is available 24/7/365, so you can count on getting prompt assistance even in the dead of night or on a weekend. Even better, 911 Restoration technicians guarantee an arrival time of 45 minutes or less. They won't leave you waiting and worrying, watching the minutes tick by as your home or business fills with water. They're there when they say they'll be there.
The water damage restoration crew approaches your pipe burst or water disaster with the deepest compassion. They know how overwhelming it can be to see a beloved property ruined by an unexpected occurrence, and they work hard to give you fast solutions and alleviate your stress. They even provide a free insurance consultation, which means a friendly flood cleanup expert reviews your insurance plan and clarifies what services you can expect your provider to cover. Insurance gets confusing when it comes to water damage restoration, as you could require a wide range of services from drywall replacement to mold remediation. The staff at 911 Restoration make sure you know how your costs will be handled before you go into the water damage restoration process so you don't have to live with the stress of uncertainty.
Ultimately, your dedicated flood cleanup workers just want to help you get past the anxiety of a water disaster so you can see the Fresh Start waiting for you on the other side. For excellent service and true peace of mind, call 911 Restoration of Tulsa today at 918-203-4819.
Expert Water Damage Restoration In Coweta
When you call 911 Restoration of Tulsa to handle your pipe burst or water disaster, you're calling on a team that has one goal in mind:
To restore your property to its best ever condition.
The water damage restoration experts aren't interested in just drying out your property and leaving. They believe this disaster should be an opportunity for you to rebuild better than ever. They provide comprehensive flood cleanup with a multi-step process that includes water extraction, structural drying, damage repairs, mold inspection, and mold removal. They also come equipped to handle emergency services to stop the flow of water, including boarding up, storm repair, roof repair, and leak detection.
Water can cause serious destruction to your home or business, and the flood cleanup crew understands that your property will never feel the same until that destruction has been addressed. No matter what you need—roof repair, drywall replacement, carpet removal—they handle it. They tear out what's ruined and replace it with newer, stronger materials.
Don't just survive today's disaster. Thrive because of it. Call 911 Restoration of Tulsa for a Fresh Start. Our phone number is 918-203-4819.

A Mold Remediation Contractor You Can Trust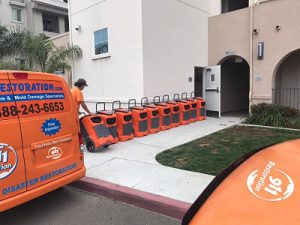 Property owners dealing with mold contamination are in a vulnerable position. Mold is a destructive organism that lives in hiding and eats away at the structure of your home. Certain varieties of mold are allergenic, pathogenic, or toxigenic, releasing mycotoxins and other particles into the air that can wreak havoc on your health. The risks of a mold infestation are high, but as a property owner, you want to be sure you find a mold remediation contractor you can trust to be honest with you about the risks and handle your infestation in the safest way possible.
911 Restoration of Tulsa is that mold remediation contractor. When our mold inspection workers discover an infestation, they deliver a sample of the colony to a third-party laboratory for testing. This ensures that you and your mold inspection experts learn about your infestation together, using information from a scientific and unbiased source to make decisions about mold removal.
The mold decontamination crew have undergone relentless training to manage mold removal in the safest and most effective way. Whether it's white mold or black mold, you can be sure these professionals will get rid of the infestation completely. And of course, the goal is not just to complete mold removal, but also to prevent the colony from returning. Even the most thorough mold removal efforts cannot prevent an infestation from leaving mold spores in the air. However, your mold remediation workers can make sure those spores don't have a damp place to land. They do this through a process of structural dehumidifying—drying out the site of mold growth completely.
In both pipe burst disasters and mold remediation, our technicians work with total transparency. They prioritize your peace of mind and wellness. 
For trustworthy flood cleanup and mold removal in Coweta, look to 911 Restoration of Tulsa. Call us at 918-203-4819

Servicing the cities of Bixby, Broken Arrow, Catoosa, Chouteau, Claremore, Collinsville, Coweta, Glenpool, Inola, Jenks, Oolgah, Owasso, Prue, Skiatook, Sperry, Tulsa, Tulsa County, and surrounding areas.