Water Damage and Mold Removal in Chouteau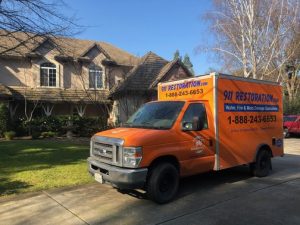 At 911 Restoration, we know the panic you feel when a pipe bursts in the middle of the night, flooding your home. Or maybe you've just arrived at your business property to discover a nasty sewage backup. Or even worse, maybe your beloved refuge has been struck by an Oklahoma tornado. For disasters big and small, you can count on 911 Restoration of Tulsa for expert, compassionate water damage restoration in Chouteau. We're there for you even in the dead of night and on holidays.
It's true. Our water cleanups technicians are standing by 24 hours a day on weekdays, weekends, and holidays. They guarantee an emergency response every single time. You'll have water damage restoration pros at your door in 45 minutes or less. Call us at 918-203-4819 and allow us to provide a free visual inspection.

From pipe bursts to disaster restoration, our flood cleanup workers are the best in the business. Every single technician completes extensive property restoration training. They handle everything from water cleanup to structural repairs to mold inspection and mold removal. Just as important, every member of our team holds him or herself to the highest standards. Our water damage restoration techs serve you with integrity, transparency, and excellence.
Worried about the cost of water cleanup? Let us put your mind at ease with a free insurance consultation. A flood cleanup expert sits down with you to review your policy. They explain which services are covered by your provider. Whether you need sewage removal, storm repair, or mold remediation, you go into the water damage restoration process with eyes wide open.
At 911 Restoration of Tulsa, our goal is to give you a Fresh Start quickly and with as little stress as possible. Believe it or not, it only takes one call to restore your home or business to its former glory. Just call 911 Restoration now at 918-203-4819.
Emergency Flood Cleanup Service Providers
There is no such thing as water damage that can wait. Whether you've had a pipe burst or storm damage, you need flood cleanup service immediately. Reach out to the water damage restoration company who truly understands the urgency of your situation. Call 911 Restoration of Tulsa.
Our water cleanup technicians take every job personally. They treat your property as if it were their own, leaping into action and arriving in 45 minutes or less. They immediately assess the situation, then strategize the best plan for minimizing damages and costs. If you have any belongings in harm's way, they pack out and store those items for you. If you need roof repair, storm damage, water extraction, sewage removal, or any other emergency service, they're on it. Think your drywall might need to be replaced? Or you need to remove your carpet due to water damage? Our water cleanup crew handles those repairs as well. They even conduct structural testing to make sure your home or business is still standing strong. As far as they're concerned, it's not true water damage restoration until your property feels brand new again.
Worried about mold contamination? It's common to develop mold after a pipe burst or house flood. That's why our flood cleanup technicians dry out your property thoroughly and complete water damage repair with a mold inspection. If they discover an infestation, they take care of mold remediation personally.
If you need emergency flood cleanup in Chouteau or the surrounding area, the choice is clear. Call 911 Restoration of Tulsa. We're there for you in 45 minutes or less. Our phone number is 918-203-4819.

The Most Reliable Mold Removal in Chouteau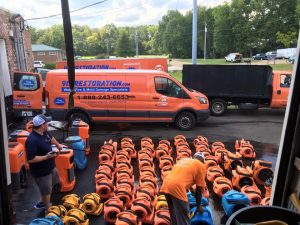 Don't make the mistake of putting off mold remediation. If you have an infestation, you need a certified mold decontamination contractor to take care of the problem immediately. 
Mold spreads quickly. Fungus reproduces through airborne spores that often find their way into dark, damp corners of your property. If an infestation is left to thrive without prompt mold removal, the fungus eats away at the structure. Mold also releases harmful particles that can cause health problems ranging from asthma to heart issues. 
Our mold remediation experts are careful to conduct a thorough mold inspection. Their mold inspection is certain to reveal any hidden infestation. That way, you can be sure their mold removal efforts are comprehensive and effective.
Your dedicated mold decontamination experts conduct mold removal using the safest and most up-to-date methods. They complete mold remediation with structural dehumidifying to make sure your property is protected against future infestation. And they even handle repairs for any surface destroyed by mold.
For the sake of your health and your property, make mold removal number one on your to-do list. After all, it only takes one call to 911 Restoration of Tulsa. We'll take it from there, call us at 918-203-4819.
Servicing the cities of Bixby, Broken Arrow, Catoosa, Chouteau, Claremore, Collinsville, Coweta, Glenpool, Inola, Jenks, Oologah, Owasso, Prue, Skiatook, Sperry, Tulsa, Tulsa County, and surrounding areas.