Water Damage And Mold Removal in Claremore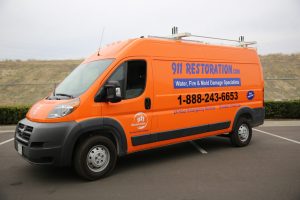 After all the time, money, and love you've poured into your home or business, a simple pipe burst can feel like the end of the world. The good news is, you've got the ultimate ally in 911 Restoration of Tulsa. No matter when a water disaster strikes, 911 Restoration has water damage restoration technicians on hand to be at your door in 45 minutes or less. They are available 24/7/365, and they treat your situation with the urgency it deserves.
911 Restoration of Tulsa is locally owned and operated. The highly trained technicians handle water damage restoration in Claremore with the full understanding that they are not just serving customers; they're serving neighbors. They treat you with the deepest respect and approach your disaster with compassion. They know the stress you're under, and they do everything they can to make the process of flood cleanup easier on you. They even provide a free insurance consultation to help you figure out which services your provider is responsible for.
The staff at 911 Restoration is IICRC certified in water damage restoration and mold remediation, so you can be sure you're getting the very best service available. They handle every aspect of flood cleanup, including water removal, sewage extraction, roof repair, leak detection, mold inspection, and mold decontamination. Whatever it takes to turn your disaster into a Fresh Start, they've got it covered. 
Between the pipe bursts, tornadoes, and reckless winter storms, property owners in Claremore are never truly safe from the threat of water damage. But with 911 Restoration only 45 minutes away, you've got nothing to worry about. 
Call now and let us turn this disaster around.
Emergency Water Restoration Service
Any water disaster—whether it's a pipe burst, sewage backup, or property flood—demands nothing less than urgency. You get exactly that from the water damage restoration technicians at 911 Restoration of Tulsa.
The crew arrives at your door in no more than 45 minutes, and they instantly snap into action with emergency water extraction, boarding up, storm repair, or whatever else your situation calls for. They pack out and store your belongings to keep them safe during water removal, and they bring in professional fans to dry out the surfaces and structures of the affected area.
Depending on the extent of your water disaster, you may have some significant damages. Water can weaken drywall, cause your ceiling to rot, damage sheetrock, or warp your floorboards. And in extreme cases such as storm or tornado damage, you could be looking at major destruction to your roof, windows, or walls. At 911 Restoration of Tulsa, we believe the water damage restoration process should entail more than drying out your space. Every flood cleanup technician has been trained to provide professional repairs and make your property brand new again. They also conduct a mold inspection to ensure there is no lasting damage from an undiscovered infestation.
Today may feel like a nightmare, but the compassionate crew at 911 Restoration can provide ultimate relief. Don't delay. Call now for comprehensive water damage restoration.
Full-Service Mold Remediation In Claremore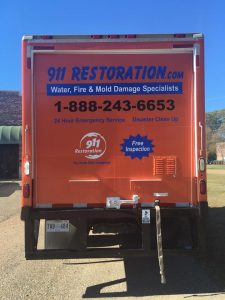 Due to the high probability of developing mold after a pipe burst or any other kind of water damage, your flood cleanup workers are also certified in mold remediation. Once they've removed the water, dried the area, and repaired damages, they conduct a detailed mold inspection.
When a mold inspection uncovers a colony, the mold remediation experts take a sample of that infestation to a third-party laboratory. The lab conducts professional mold testing to determine which species has infested your home or business. There are more than 100,000 species of mold, each carrying different potential risks to your health. This is why it's especially important to consult a certified mold remediation contractor rather than attempting mold removal on your own. A certified specialist knows how to handle any type of mold decontamination effectively and safely.
Once mold removal is complete, the mold remediation professionals bring in professional dehumidifying tools. The dehumidifying process removes all moisture from the structure where mold grew. By doing this, your mold removal crew makes it nearly impossible for the infestation to return.
From water removal to mold removal, the experts at 911 Restoration do whatever it takes to make sure you're left with a beautiful, clean, stronger-than-ever property. For truly complete mold remediation and flood cleanup in Claremore, call 911 Restoration of Tulsa now.
Servicing the cities of Bixby, Broken Arrow, Catoosa, Chouteau, Claremore, Collinsville, Coweta, Glenpool, Inola, Jenks, Oolgah, Owasso, Prue, Skiatook, Sperry, Tulsa, Tulsa County, and surrounding areas.