Water Damage and Mold Removal in Sperry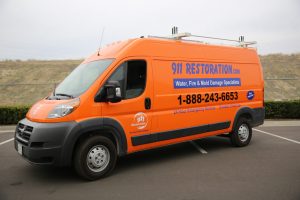 If you need flood cleanup in Sperry, turn to the water damage company who embraces the same small town values you do. At 911 Restoration of Tulsa, you're not just a customer. You're a neighbor in need. Our water damage restoration technicians arrive at your property in 45 minutes or less, ready to serve with compassion and focus. They treat your pipe burst, storm damage, or other disaster as if it were their own property at stake. 
Every one of our water cleanup experts is IICRC certified and highly trained for your peace of mind. They have mastered every aspect of the property restoration process. You can count on them for everything from emergency boarding up to sewer flood cleanup to roof repair. They even provide mold inspections and full-service mold remediation. 
Wondering if your insurance covers water damage restoration? We'll help you figure it out. We offer a free insurance consultation. During the consultation, a flood cleanup staff member reviews your policy, explaining exactly which services your provider covers. Then, they assist with loss inventory and itemization, claim filing, and direct billing. We know pipe bursts and similar incidents bring on the panic of unexpected expenses. It's our goal to put your mind at ease and make recovery affordable.
And we do promise a full recovery. Your dedicated water cleanup crew works diligently to make your home or business brand new again. For compassionate service and a Fresh Start, call 911 Restoration of Tulsa today.
The Best Water Damage Restoration in Sperry
Did you know you can reach our water cleanup crew 24/7? It's true. It doesn't matter if it's a holiday, weekend, or the dead of night. Our water damage restoration experts are ready and waiting to serve you at a moment's notice. And when that pipe burst happens, they're there in 45 minutes or less. This is one of many reasons 911 Restoration is the preferred flood cleanup service provider in Sperry.
But that's not the only reason.
Your neighbors know they can count on our water cleanup technicians for high standards and comprehensive service. When the water damage restoration team first arrives at your property, they devise a strategy for minimizing damage. Oftentimes, this means packing out and storing your at-risk belongings. It could also mean stopping the flow of water with emergency boarding up, leak detection, or roof repair. Once they're certain no more water will enter your property, they proceed with water removal. They use wet vacuums to extract every ounce of moisture, then bring in professional fans to dry the area. 
After they complete water cleanup, the technicians make sure there are no damages. Pipe bursts, sewage backups, and other water incidents can sometimes destroy drywall, flooring, and other materials. The water damage restoration crew conducts structural testing to make sure your property is sound. If they find any destruction, they take care of repairs themselves. This even includes mold remediation.
In all their work—from sewage extraction to mold inspection—our crew makes your best interest their first priority. They don't cut corners, and they don't rest until your home or business is good as new. 
Call 911 Restoration of Tulsa for the service you deserve.
A Fresh Start with Expert Mold Decontamination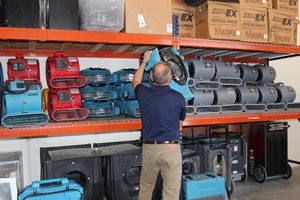 Between frequent water damage and hot, muggy summers, local properties are especially vulnerable to mold contamination. Fortunately, the best option for mold removal in Sperry is just one easy call away.
Our mold remediation experts conduct a thorough mold inspection, careful to uncover any infestation on your property. Mold often grows in dark, secret corners. Even if you see a colony growing in plain sight, spores from that colony may have spread to hidden spaces elsewhere. This is why our mold removal crew is relentless with their mold inspections. They want to be sure every growth is accounted for and killed.
Wondering if you can just handle mold removal yourself? It's a question we get a lot. The truth is that household cleaners are rarely effective at mold decontamination. And even then, simple mold removal doesn't do anything to address the risk of a repeat infestation.
All mold spores need to create a mold colony is contact with a damp surface. If you try to take care of mold removal by scrubbing at a growth, you're not really addressing the root of the problem. Our mold remediation staff brings in professional tools to dehumidify the structure. This means they dry it down to the core. As a result, any mold spores left in the air no longer have a hospitable landing ground. 
When it comes to mold remediation, we don't just get rid of today's problem. We take measures to keep you and your property safe tomorrow and well into the future. For reliable mold removal, call 911 Restoration of Tulsa.
Servicing the cities of Bixby, Broken Arrow, Catoosa, Chouteau, Claremore, Collinsville, Coweta, Glenpool, Inola, Jenks, Oologah, Owasso, Prue, Skiatook, Sperry, Tulsa, Tulsa County, and surrounding areas.