Water Damage and Mold Removal in Catoosa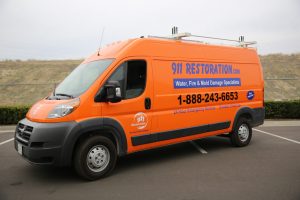 Who doesn't love living in Catoosa? We've got historic Route 66, the Blue Whale, and so much natural beauty. The only downside is the floods, storms, and tornadoes that threaten local properties with water damage and mold. Even then, local property owners have the best possible resource right at their fingertips. 911 Restoration of Tulsa provides full-service, emergency water damage restoration in Catoosa and beyond. Our water cleanup technicians are available 24/7/365, and they work with your best interests in mind.
Every team member is IICRC certified in property restoration. This means they've completed rigorous training in all aspects of water damage restoration and mold remediation. They truly do it all: water extraction, sewer flood cleanup, structural drying, damage repairs, mold inspection, and mold decontamination. Their ultimate goal is to provide a Fresh Start for you and your property. You can count on the water cleanup and mold remediation crew to do what it takes to make your home or business good as new.
It doesn't matter what type of disaster you've had. Pipe bursts, washer machine flood, tornado damage, mysterious ceiling leaks… we've got you covered. Our water cleanup staff even provides a free insurance consultation. We know how much you worry about the cost of water damage restoration. It's especially overwhelming when your pipe burst or flood disaster requires a range of services. Will insurance cover water removal? Roof repair? Mold remediation? Our insurance consultation answers all those questions for you. We even assist with claim filing.
From beginning to end, 911 Restoration of Tulsa has your back in a disaster. For compassionate, expert flood cleanup in Catoosa, call us now.
Comprehensive Water Damage Repair
You may already know that 911 Restoration is an emergency water cleanup service. Our technicians are available 24 hours a day, every single day of the year. We guarantee an arrival time of 45 minutes or less. You know that when you reach out to us, you won't be stuck waiting and worrying much longer.
But did you also know that 911 Restoration provides the most comprehensive flood cleanup service in Catoosa? Our technicians take care of everything after a pipe burst or any other incident. They treat your property as if it were their own, which means they don't consider basic water cleanup good enough. They want to fully restore your home or business to its former glory.
The entire water damage restoration process varies depending on the nature of your disaster. However, the big picture is this:
The flood cleanup crew immediately sets to work with emergency services such as roof repair, boarding up, water extraction, sewage removal and packing out and storing any at-risk belongings. They check for leaks and make sure they've stopped the flow of water before moving on to the next step.
Once they've addressed the most pressing issues, your water damage restoration crew follows up with structural drying. Your property must be bone dry to prevent mold, rot, and warping. Then, the water cleanup technicians test the structure for damage. If they find any problems, they fix those problems personally. Finally, they conduct a mold inspection and perform mold removal for any infestations.
In the end, you're left with a home or business that's as clean and beautiful as the day you moved in. 
This pipe burst, tornado damage, or whatever else you're going through doesn't have change your property forever. In the right hands, this disaster can become a Fresh Start. Call 911 Restoration of Tulsa and we'll show you how.
Mold Remediation in Catoosa and the Surrounding Area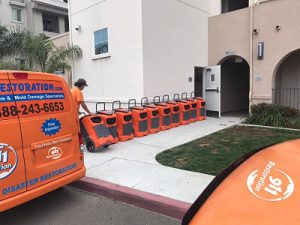 Our technicians aren't just water damage restoration experts. They're also highly skilled mold removal technicians. They promise safe and reliable mold remediation, whether it's part of water cleanup or a standalone mold removal job.
Our mold decontamination crew begins every job with a thorough mold inspection. A mold inspection is essential for a successful mold removal process. Your dedicated mold specialists search every nook and cranny to be certain there is no additional growth hidden away. Once they're certain they've found every colony, they begin mold removal. Their methods are safe and effective. 
The mold inspection and cleanup workers complete mold remediation with structural dehumidifying. This step is one of the many things that sets professional mold removal apart from do-it-yourself efforts. If the structure were mold grew is left damp, mold spores can—and probably will—land again and start a new infestation. Structural drying ensures that no moisture remains beneath the surface. This helps prevent future growth. 
From flood cleanup to mold remediation, you can expect the very best from 911 Restoration of Tulsa. Call today for the best service in town.
Servicing the cities of Bixby, Broken Arrow, Catoosa, Chouteau, Claremore, Collinsville, Coweta, Glenpool, Inola, Jenks, Oologah, Owasso, Prue, Skiatook, Sperry, Tulsa, Tulsa County, and surrounding areas.