What Is Water Extraction After a Fire?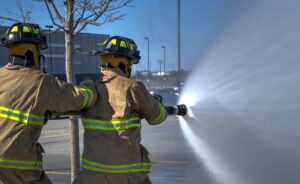 One damage can sometimes initiate another. This is what happens when firefighters use firehose or water sprinklers to put out the fire. We'll talk about what water extraction is after a fire. Let's first discuss what water damage and fire damage are and how they are caused.
Water damage can be caused by severe weather conditions, leaking pipes, clogged gutters, blocked drains, and leaking water heaters. On the other hand, the causes of residential fires include unattended cooking, candles, holiday decorations, heating systems, faulty equipment, lighting, and smoking within the smoke.
Water Extraction After a Fire – What it Is?
Many times, after a fire, water damage restoration is required because when the fire is extinguished, the water used to put out the fire causes damage to the property and belongings. Because of the presence of excessive moisture, the chances of mold growth increase as well. So, it's safe to say that fire doesn't cause one but two severe damages.
Fire hose, in particular, can be really harsh. Therefore, they are more damaging than water sprinklers. The good news is that if you are in a similar situation, you don't have to call 3 different home restoration companies to handle fire damage restoration, water damage restoration, and mold removal because usually, they offer all these services under one roof.
Considering the damages that ensue by a fire, it is extremely expensive and time-consuming to restore the property. To help you understand how much time it'll take to restore the property, here's the breakdown of how much each restoration process takes and what it comprises of:
Water damage restoration can take anywhere between 1 to 2 weeks. Generally, it takes around 72 hours to extract water and dry out one room. However, fixing water damage on a ceiling usually takes around 2 to 4 weeks. The cleanup process includes inspection, coming up with a removal plan, removing water, dehumidifying, cleaning, sanitizing, and making necessary water damage repairs.
Fire damage restoration, on the other hand, is more complex than water damage restoration as it can last anywhere between a few days to 7 months, depending on the severity of the house fire. The process includes replacing inspection of the damage, sketching out a restoration plan, roof tarping, cleaning contents, water damage restoration and drying, smoke and soot damage restoration, installing carpets and drywalls, disinfection the property, and removing odors.
Mold removal is a shorter process in comparison to fire damage restoration and water damage restoration, as it only takes anywhere between a day to five days. The process includes thoroughly inspecting the property, removing and cleaning the mold-contaminated areas, disinfecting the property, vacuuming and air scrubbing, and odorizing the property.
If you hire a professional home restoration company, you can expect the experts to guide you through the process and run a thorough inspection of the house to come up with an effective restoration plan. By hiring the right home restoration experts, you wouldn't have to worry about anything.
Another important thing to note here is that re-entering the property after a fire can be really dangerous, especially if the fire has caused serious structural damage to the house. Therefore, make sure to listen to the home restoration experts and follow their advice.  If your house is experiencing water damage after a fire, you have to be patient because water extraction after a fire can take some time. s
Why Should You Worry about Water Damage?
As discussed earlier, you should worry about water damage because excessive moisture can cause mold to grow. In other words, water damage and mold growth are interconnected.
Consistent exposure to mold spores can lead to an array of severe health conditions, including throat irritation, asthma, mold allergy, dry cough, eye and skin infection, nasal congestion, and wheezing. Mold is considered dangerous to humans because it produces allergens, irritants, and mycotoxins, which can cause sensitivity in people who are allergic to them.
People with compromised immune systems have a higher chance of suffering from mold-related diseases. If the mold situation gets worse, it can also result in a decrease in property value. The fact is that exposure to moldy environments can cause various illnesses or none at all.
Outdoor molds play an important role in the ecosystem, but indoor molds are usually a red flag. The scary part is that mold only requires 24 to 48 hours to grow. They reproduce by spores that travel through the air. Not all molds are visible. So, if you have never dealt with molds, the chances are that you wouldn't be able to find the mold-contaminated areas.
If, after water damage in the house, you can smell an unbearable, earthy odor, the chances are that it might be bold. It's also important to understand that molds don't just require excessive water to grow and spread throughout the house.  All they require are moisture, food, and oxygen to grow. So, it's important to be on the lookout for clogged drains, burst pipes, leaking roofs, and other types of leaks.
Looking for a Certified, Experienced, and Reliable Home Restoration Company in Tulsa?
If you are looking for a trusted, experienced, and IICRC certified home restoration company, then 911 Restoration of Tulsa should be on the top of your list.
With an average response time of 45 minutes, the home restoration experts reach your property as soon as possible to prevent further damage and help you get back to your normal life.
Their experts offer all disaster restoration services, including mold removal, water damage restoration, and fire damage restoration. So, if your property experiences a fire, you wouldn't have to call different companies to deal with water damage restoration, and mold removal after the fire has been put out.
The best thing about the home restoration company is that they offer free visual property inspection for water damage and mold. They are available 24/7/365 to start the restoration process and save your property. Don't want to do more harm than good by cleaning up the property after water damage? Give them a call!