Fire Extinguisher Series – Class C Extinguishers & How to Clean Up After Them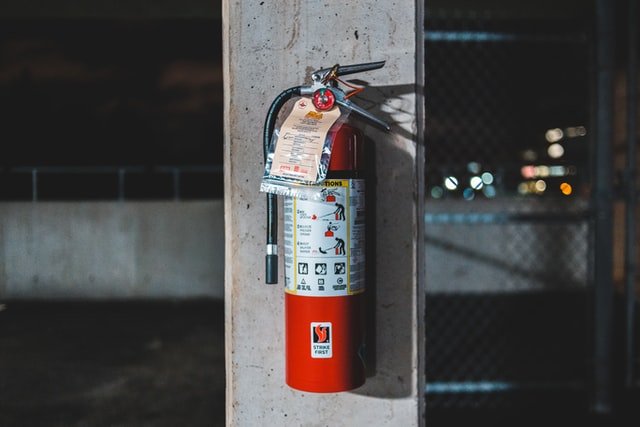 Class C fire comes from electrical equipment. Electrical installations and electronic devices can generate short circuits that end up causing a fire or electrical fire. Therefore, in areas where this risk is high, installing specific fire extinguishers is advisable.
But, what type of extinguisher is valid against class C fires? Since the origin is electrical energy, it is necessary to avoid using conductive agents in the extinguishers, such as water. 
Here's our explanation on class C fires, the type of fire extinguishers used for them and how to clean after class C fire extinguishers!
What are Class C Fires?
A class C fire is an electrical fire that has its origin in an electrical installation. The origin can be very varied: poorly made splices, insufficient conductors for power, poor or insufficient insulation, light hooks, unprofessional handling, etc. These causes and many more can generate sparks or short circuits that could easily lead to fires.
Class C fires are one of the most frequent in companies and offices. In addition, it is often important to protect the installed equipment and storage disks to suffer as little damage as possible.
The Right Reflexes in the Event of a Class C Fire
In the event of a Class C fire, even if it is a small fire, we must immediately call the fire department, advising them that it is an electrical fire.

Cut the electricity. We should not plug anything in or try to disconnect the cable that caused the fire, but instead, approach the fuse box and turn off all the switches, making sure that the hands are dry.

If the fire is still small, one of the best ways to extinguish it is using a fire blanket, with which we will cover the fire, thus ensuring that the flames do not receive oxygen, a fact that will cause them to be extinguished. Having a fire blanket is highly recommended for the protection of our home.

We can also use a fire extinguisher to put out the electrical fire. However, being very vigilant and keeping in mind that it is not a water extinguisher. A fire extinguisher with a water agent will spread the flames even more instead of putting them out, causing even greater damage.
When the power to a piece of electrical equipment is cut off, the fire changes character, to one of Class A or Class B, or to a combination of both, depending on the nature of the ignited electrical material and material ignited in the immediate vicinity.
De-energized electrical equipment eliminates the possibility of shock hazards to the operator of the fire extinguisher when the operator comes into physical contact with the equipment or when the operator is wearing any conductive part of the extinguisher within the arcing distance. 
The De-energizing also removes faulty currents that may prolong the fire or cause reignition. Switches that cut off electrical power to equipment can avoid side risks. 
Frequently, fires that include electrical components are relatively minor and using a short application of the Class C extinguishing agent can be effective without disturbing the electrical continuity.
Class C Fire Extinguishers
The type of extinguisher to put out class C fires should be a chemical powder or CO2 extinguisher since neither conducts electricity. The only difference is in the final result.
Dry Chemical Fire Extinguishers
 The chemical powder extinguisher carries sodium bicarbonate between other ingredients, which suffocates the fire creates a sticky film that prevents combustion since it isolates the oxygen from the burning element. But the problem is cleaning this sticky film if you want to reuse the elements that have caused the fire.
CO2 Fire Extinguishers
CO2 extinguishers are also suitable for electrical fires because they eliminate oxygen and do not damage the elements since they can be cleaned without any problem once the fire has been extinguished.
It is convenient to install a fire extinguisher of these types for electrical risk and place it near the electrical panel or equipment of vital importance for the company. Large multinationals install complex fire-fighting systems in the rooms that house the most important data.
Although Class C fires are usually small and can be extinguished by a CO2 or dry chemical fire extinguisher, burning live equipment represents real danger. Whoever tries to put out the fire is at risk of electrocution. Therefore, it is recommended to seek professional help.
How to Clean After Class C Fire Extinguishers
Dry chemical fire extinguishers contain mono ammonium phosphate, sodium bicarbonate, and potassium bicarbonate. These agents leave behind corrosive dust that can damage electronics and metal surfaces when they come into contact. Therefore, it is essential to act quickly. 
The products inside dry chemical powder extinguishers are dangerous, so it is important to use adequate protection for cleaning: masks, glasses and gloves. Here are the steps:
Vacuum or remove as much debris as possible.

Mix a solution with 98% hot water and 2% vinegar and wash the area with it. Let the solution sit for about five minutes and finish by rinsing the area with lukewarm water.

To treat mono ammonium phosphate dry chemical, make a mixture of hot water and baking soda. Let the solution sit for about five minutes, and then rinse the area with lukewarm water.

Wash and rinse the area with a soapy solution.

Use a fan to dry damp areas.
Now you know how to clean after class C fire extinguishers, but remember that while cleaning their residues, there is a risk of damaging the equipment and causing further damage. Therefore, it is recommended to entrust the cleaning to professionals.
If you've witnessed a Class C fire and are looking for a professional fire and smoke damage restoration service in Tulsa or the surrounding area, contact 911 Restoration of Tulsa. The 911 Restoration of Tulsa team has IICRC-certified specialists trained and experienced in fire and smoke damage restoration. Call (918) 203-4819 or visit their website for more information.