11 Tips to Protect Your Roof from Fire or Water Damage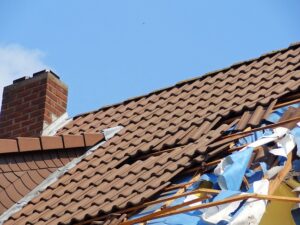 Your roof is there to protect your home from risks, including fire and water damage. Both can not only damage your home but can also compromise your health and cost thousands in repairs. While it's not always possible to prevent damage altogether, there are measures you can take to protect your roof and minimize any damage that does occur. The following are some tips you can follow to protect your roof from fire and water damage.
1. Inspect and Repair Roof Problems
Whether it's broken tiles, missing shingles, or roof leaks, taking care of roof problems is essential if you want to prevent water damage. Bent, cracked, or missing shingles leave your roof vulnerable to leaks and water damage.
2. Eliminate Ponding
Ponding occurs when there are pools of water on your roof after a rain or storm. If ponding isn't eliminated, it can lead to rot, leaks, and extensive water damage. While this is more common in low-sloped and flat roofs, it can also occur in pitched surfaces. Keep an eye out for ponding and if you notice any, call a professional to remedy the problem as soon as possible.
3. Keep the Chimney Clean
If you have a fireplace, keeping your chimney clean should be one of your main priorities. Not cleaning it regularly can result in a creosote buildup, which can catch fire if ignited. This flammable tar is combustible and builds up quickly, especially during the winter. To prevent a roof fire, you must ensure that your chimney is cleaned regularly, especially before the start of the winter season.
4. Repair the Chimney
In addition to keeping your chimney clean, you must also repair it if the flashing is loose, cracked, or missing. When this is the case, water can leak around the chimney and damage both your roof and your home. To prevent this, repair any chimney issues as soon as they arise, put a put over your chimney, and invest in high-quality flashing that is resistant to wear and tear.
5. Check Ceiling Insulation
While ceiling insulation itself is not a fire hazard, it can be dangerous if not installed correctly. Regular roof inspections should include checking ceiling insulation, especially around vent pipes. Heating from these pipes can damage roofing material and potentially cause fires during high winds. If you want to prevent fire damage to your roof, ensuring proper insulation is one way to do so.
6. Remove Ice Buildup
Ice dam buildup after snowfall is one of the major causes of water damage to your roof. When the snowmelt reaches the cold edges of your roof, it can freeze and cause ice buildup or ice damns. These, in turn, prevent runoffs and can clog your gutters and downspouts. Avoid this by removing ice dams when they form and ensuring adequate roof insulation and ventilation.
7. Repair Roof Leaks
While water damage itself is dangerous, a roof leak can also lead to fire damage. In addition to wire shorting issues, roof leaks can result in electrical malfunctions that can cause an electrical fire. If a live wire comes in contact with water, the resulting spark can cause a devastating fire. Therefore, you must repair roof leaks as soon as you notice them. Doing so will prevent extensive fire damage.
8. Fix Faulty Electrical Wiring
Faulty electrical wiring is one of the leading causes of roof and attic fires. If you suspect you have faulty writing, it's crucial to get it checked by a professional. This is especially true for older homes. Warning signs of faulty electrical wiring include lights that don't turn on and flickering bulbs.
9. Double-Check Flashing
Any joints and openings in your roof leave it vulnerable to leaks. Flashing around pipes, valleys, skylights, and vents prevents this. However, like any material, flashing is prone to rust and can bend or lose its seal. When this happens, you can expect roof damage and leaks. Sand and grit in the gutters is a surefire sign of this issue and must be repaired as soon as possible to prevent further damage.
10. Use Fire Resistant Roofing Materials
A roof fire can be damaging to one's home. However, the extent of the damage depends on the roofing material used and how flammable it is. Class A roofing materials are the most fire-resistant and ensure that your roof can withstand unexpected fires. When replacing your roof, be sure to keep this tip in mind and opt for either metal roofing, clay roof tiles, slate tiles, and fiberglass asphalt shingles.
11. Clean Your Roof
Keeping your roof clean and free of debris and dirt can go a long way in preventing roof fires. High temperatures can cause fires, and fire-resistant materials that are still flammable can ignite. Regularly cleaning your roof and getting rid of debris can help prevent this.
Call 911 Restoration of Tulsa for Fire and Water Damage Restoration
Despite your best efforts, sometimes roof damage cannot be avoided. These tips may help minimize the roof damage, but it's important to take care of damage before it has a chance to cause serious problems and structural issues. Fortunately, 911 Restoration of Tulsa can help.
Whether you're dealing with fire damage, water damage, or mold formation, our IICRC-certified technicians can help. Our emergency services are available 24/7, and we guarantee a response within 45 minutes. Call us at (918) 203-4819 or contact us here for more information.