How to Quickly Get Rid of Cigarette Smell from Bathrooms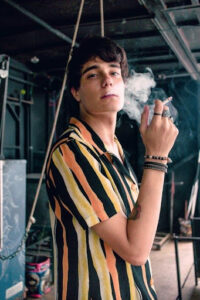 For ages, we have discussed the debilitating impact cigarettes can have on your lungs and overall health. Smoking can reduce years of your life and make you prone to serious ailments such as lung cancer and asthma, among many others. 
Besides the health concerns associated with smoking, cigarettes are also responsible for leaving a horrible odor within your interior spaces for days. The smell from your cigarette smoke can linger on and permanently attach itself to the ceiling roof and other areas if you are habitual of smoking indoors. The stale cigarette odor can turn so bad that even the person smoking may soon grow tired of them. 
If you smoke or are trying to gradually quit smoking, you will know just how bad the smell can be. In this article, we take a look at some of the ways you can follow to get rid of the cigarette smell from bathrooms. These tips have been devised with due care and consideration and will give you some cleaning tips for the future. 
Let Your Room Breathe 
The very first way to help reduce the smell of cigarettes from your room is to help the room breathe a little. Proper ventilation can go a long way in improving the aura of the bathroom and giving it a fresh look. 
Try to keep your bathroom open when you are smoking and make sure that all the windows are open during the cleaning process. The smoke from the cigarette won't cling on to the walls and ceiling if the windows are open for it to creep out. Proper ventilation can do wonders here. Once the smoky odor exits the bathroom, fresh air from outside will come in and negate the negative odor left by the smoke. 
Vinegar Scrubs 
Vinegar has a quite sharp and unpleasant odor, but it can prove to be your knight in shining armor when it comes to clearing the stale and pesky smell of cigarette butts. Vinegar is known to be an effective cleaning agent and can work wonders here as well. 
Vinegar can even clean out the air with its heavy odor, allowing all residents the luxury to breathe fresh air, which is free from the pesky and irritating smell of cigarettes. 
The cleaning process here is simple, as all you need is a bottle of water with one-third distilled vinegar added to it. You can spray the contents within the bottle to the walls and ceiling of your bathroom and let them be for 8 to 10 minutes. Once the designated time has passed, you can clear the sprayed vinegar from the walls with a lint-free towel. The vinegar spray can be used on all ceilings, furniture, bathroom equipment and mirrors inside the bathroom. 
Charcoal is a Deodorizer
Charcoal works as the perfect deodorizer and can help clear the air in your bathroom after you smoke inside. The key part to note about charcoal is that it is fairly cheap and can provide a good solution without emptying your bank. 
Charcoal works its magic by filtering out the air in your bathroom and removing all signs of bad smells from it. Charcoal comes with amazing absorption qualities that can help target strong odors and absorb them in no time. You can leave containers of charcoal around your open windows and your bathroom for a short period of time to see almost immediate results. 
Baking Soda for Recovery 
Baking soda works like a charm inside your bathroom to remove cigarette odors. You can head to your pantry or your nearest grocery store and buy a few portions of baking soda from them. The smoke molecules found inside cigarette smoke can be attracted to baking soda, which eventually mitigates their impact and clears your bathroom from any smelly odors. 
You may be able to find scented baking soda as well, which can improve the work done to offer added feasibility. Baking soda can also work as a dehumidifier, as it draws away added moisture and humidity from the air. A few boxes of baking soda can be opened up and placed inside your bathroom to not only clear the smoke that has settled in currently but also to minimize any future smells.
Buy an Air Purifier 
Air purifiers should be your last option because they are the least economical and take up a lot of electricity. Air purifiers work like a charm and come with carbon filters inside of them. The carbon filters can breathe in all sources of smoke around them and give your bathroom the recovery it needs. The filters attract all unpleasant smells and ensure that the room is cleaned. 
Homeowners can also make their air purifiers even stronger by applying and installing HEPA filters inside the purifier.HEPA filters come with enhanced efficiency and provide almost instant relief. 
Getting rid of cigarette smell from bathrooms can be an extensive process at times. 911 Restoration of Tulsa is just a call away for you! You can get in touch with us to perform a thorough inspection of your bathroom and clear it up for future use.