Mold Removal in Tulsa County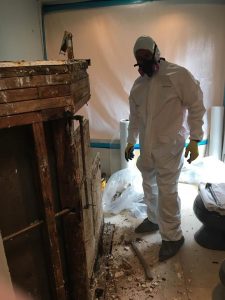 After all the hard work you've put into making your house a home or making your business a place of inspiration, it can feel like a slap in the face to discover mold invading your property. Fortunately, if you need mold remediation in Tulsa, Broken Arrow, Owasso, or the surrounding communities, you have 911 Restoration right at your fingertips. 911 Restoration of Tulsa is a certified mold cleanup company staffed with expert technicians who see your infestation as an opportunity for a Fresh Start. They don't just get rid of the mold. They deliver a cleaner property, newly fortified against the threat of future infestation. Call us at 918-203-4819 and allow us to provide you a free visual inspection.

In the hot, muggy climate of Tulsa, mold spores never have much trouble finding damp places to land and create new colonies. But the mold remediation workers at 911 Restoration get out in front of the problem by completing every mold decontamination effort with structural dehumidifying to prevent a repeat infestation. They even handle any repairs necessary for surfaces and structures that have been compromised by mold damage.
911 Restoration of Tulsa is locally owned and operated and is backed by the resources and innovations of a nationwide company. It brings all the benefits of a neighborhood contractor with the information and technology of an ever-advancing business. Every mold remediation technician approaches their work with compassion, seeing you first and foremost as a neighbor and doing all they can to keep your costs low and restore your property to its best-ever condition.
Your home or business may feel tragically contaminated now, but with 911 Restoration of Tulsa, you can count on a Fresh Start. Call us today at 918-203-4819.
Comprehensive Mold Cleanup In Tulsa
Mold remediation is a more complex process than many property owners realize. To truly get rid of an infestation, the mold cleanup workers have to remove the colony and take every measure to prevent spores from landing again and creating new growth. But first, they have to make sure every existing colony has been accounted for.
The mold decontamination crew at 911 Restoration always begin mold cleanup with a thorough mold inspection. This is necessary even if you know exactly where your infestation is. You see, mold spores travel easily throughout your home or business, and they can set up a new colony anywhere they find a damp space. This space is frequently somewhere dark and hard to see, like behind a wall or under the sink. Without conducting a mold inspection, the mold cleanup crew would potentially be removing a colony in one area while leaving a second infestation to continue eating away at the structure of your property.
Once all colonies have been discovered, the mold inspection experts take a sample to a third-party laboratory for testing. After they know exactly what they're dealing with, the technicians tackle mold removal, then dehumidify the structure to prevent future growth. They also make any necessary repairs, from carpet removal to drywall replacement.
When you need mold decontamination, never settle for less than comprehensive service. By the time your mold remediation techs leave, you should have a property that's clean, strong, and brighter than ever. You'll get that every time with 911 Restoration of Tulsa. For exceptional mold removal in Tulsa, give us a call today at 918-203-4819.
Can I Use Household Cleaners For Mold Removal?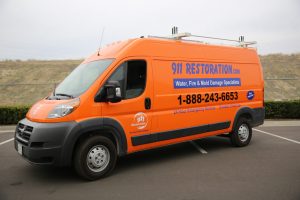 Attempting DIY mold remediation using household cleaners may seem like a cost-effective solution to your contamination problem. But the truth is, when you tackle an infestation using home remedies, you're bound to have more costly damages in the long run.
A certified mold inspection and remediation contractor like 911 Restoration offers comprehensive service. They make sure every colony has been found and eliminated, and they take additional measures to prevent the return of mold. The absolute best household cleaners can do is handle mold removal…and it's extremely rare that they even do that effectively. If you choose household cleaners over a certified mold removal expert, you're likely to have a repeat infestation and additional colonies growing out of sight.
If you don't seek out a professional mold inspection to uncover every infestation, unseen colonies will continue to thrive in secret. The function of mold is to break down organic material. This means that the longer an infestation thrives without mold decontamination, the more it destroys your walls, ceilings, and the very structure of your home or business. Not to mention, most molds present some sort of threat to your health, whether it's the asthma-causing particles of allergenic species, or the more dangerous mycotoxins released into the air by black mold. 
No matter what type of infestation you have, you cannot afford to risk waiting on mold removal or attempting the DIY route. For the sake of your safety and your property, call 911 Restoration of Tulsa today at 918-203-4819.

Serving the communities of Tulsa County and surrounding area.